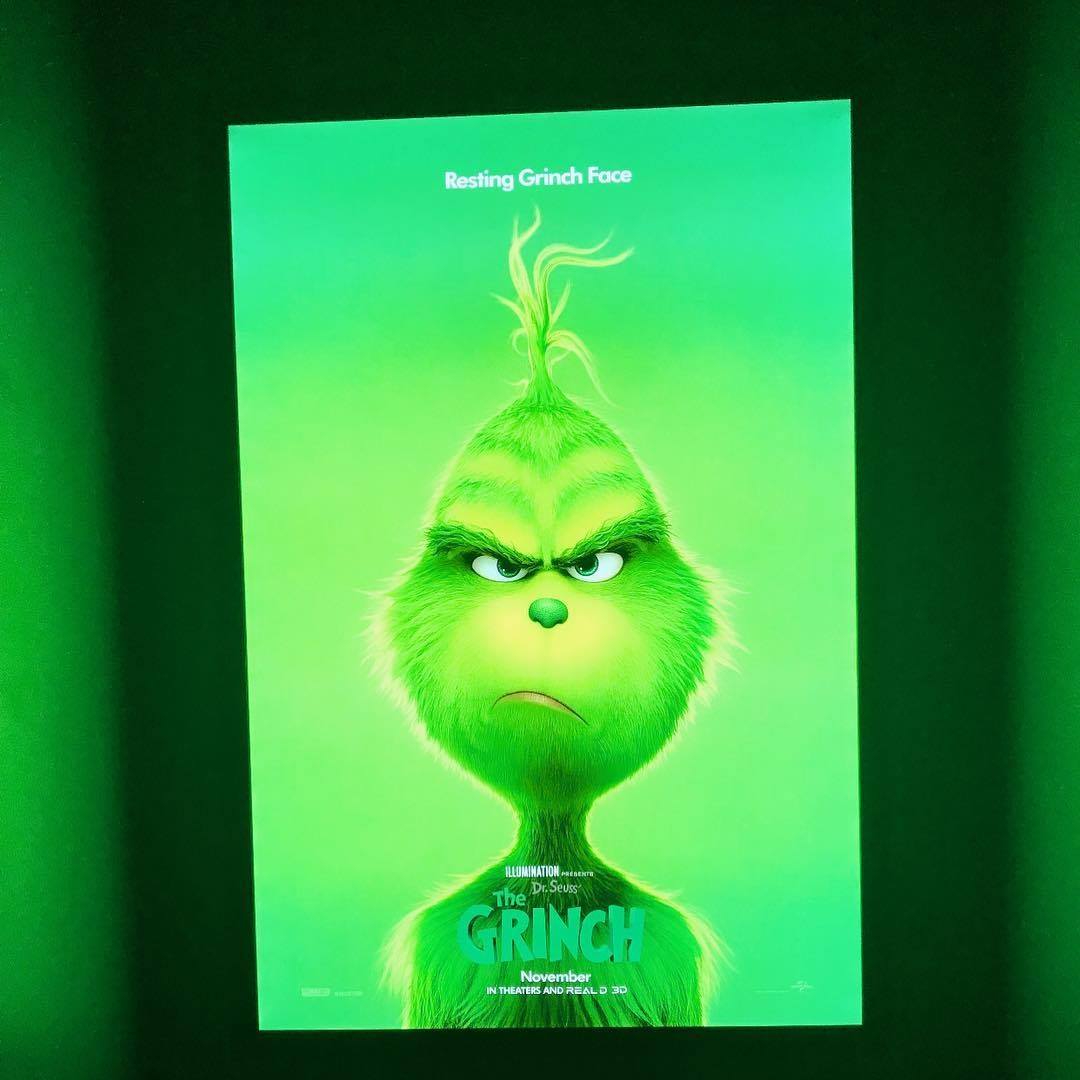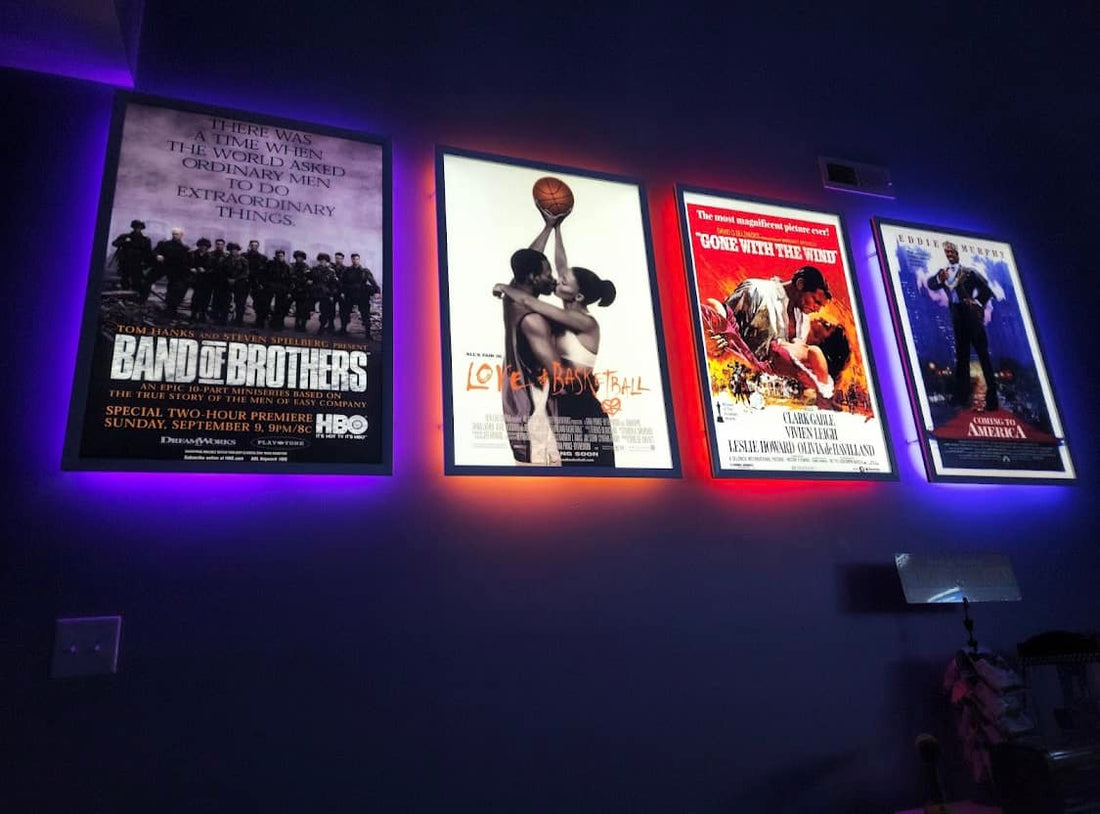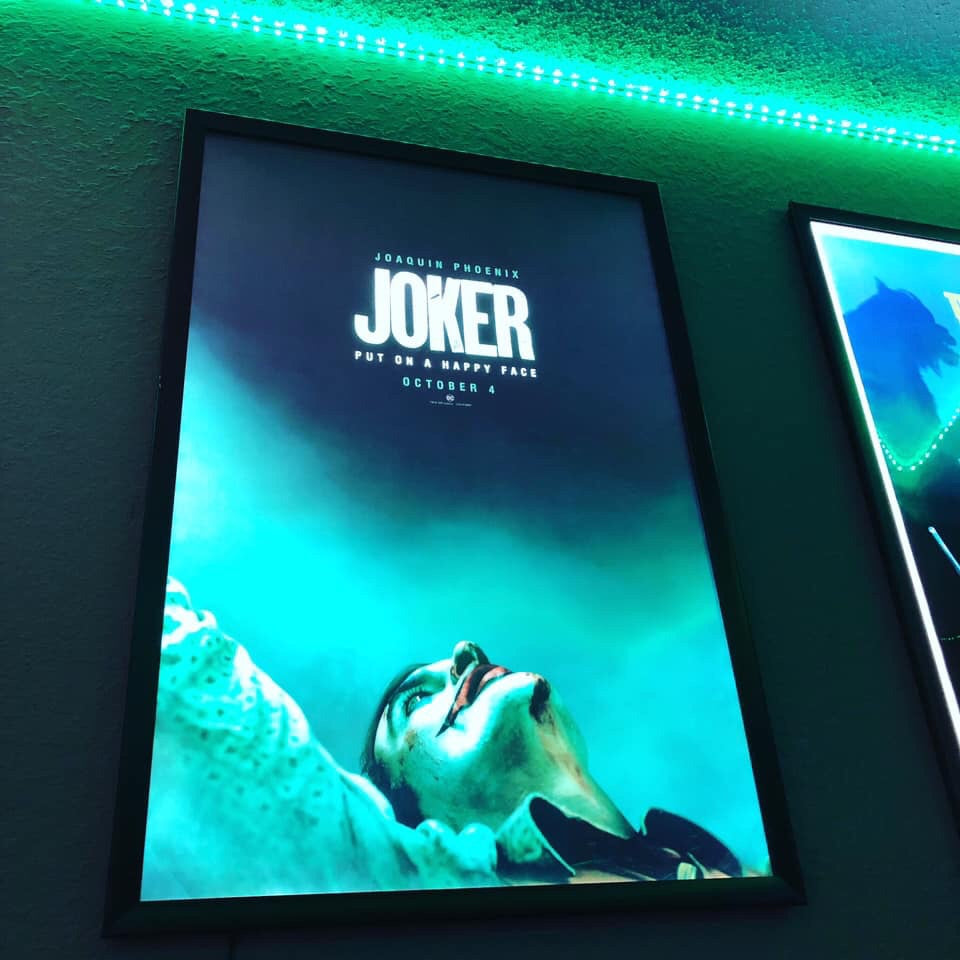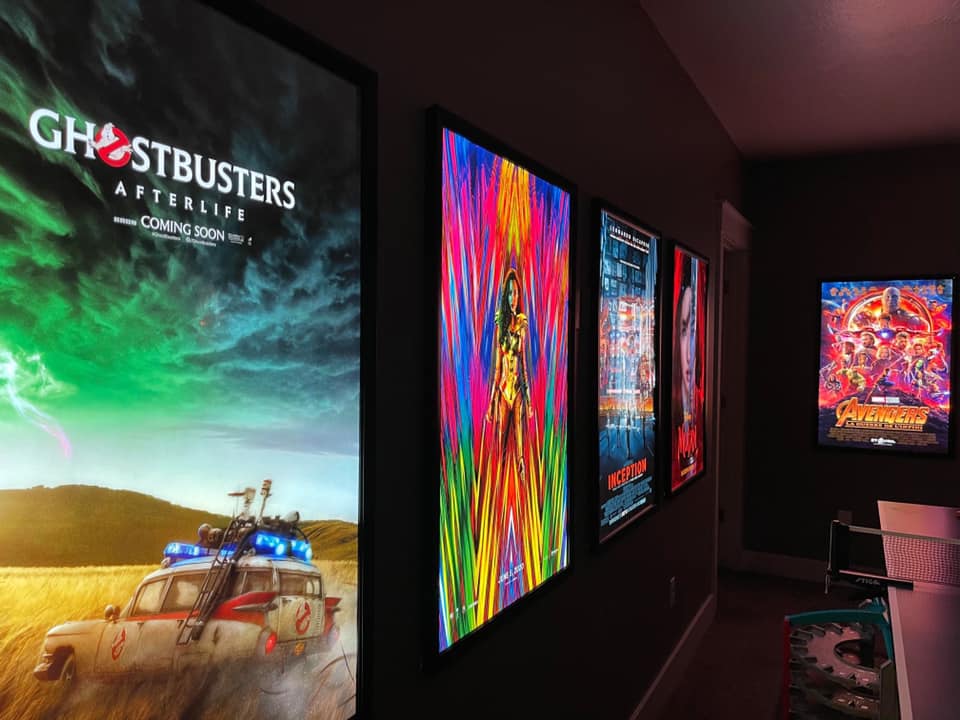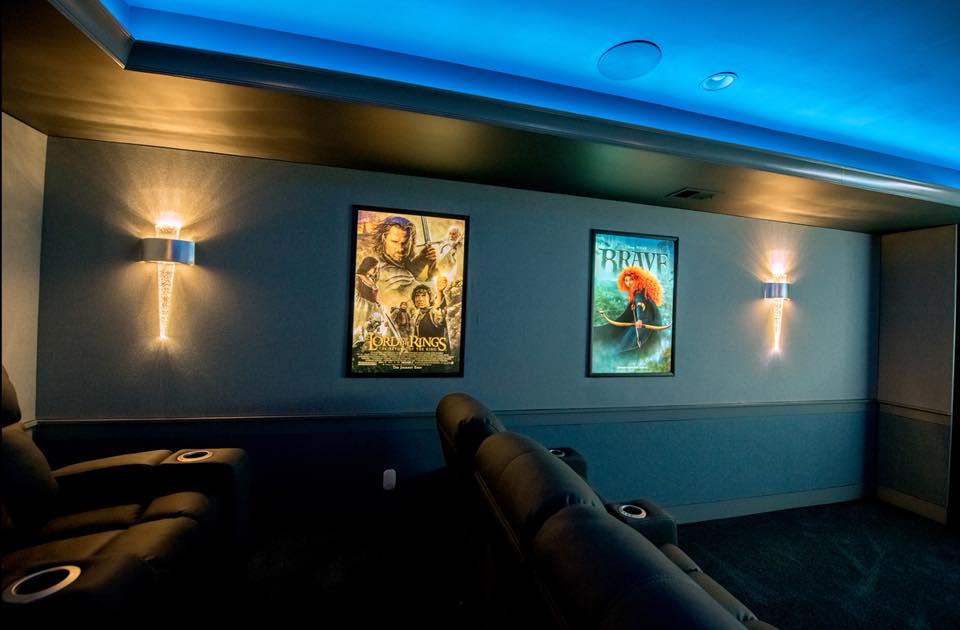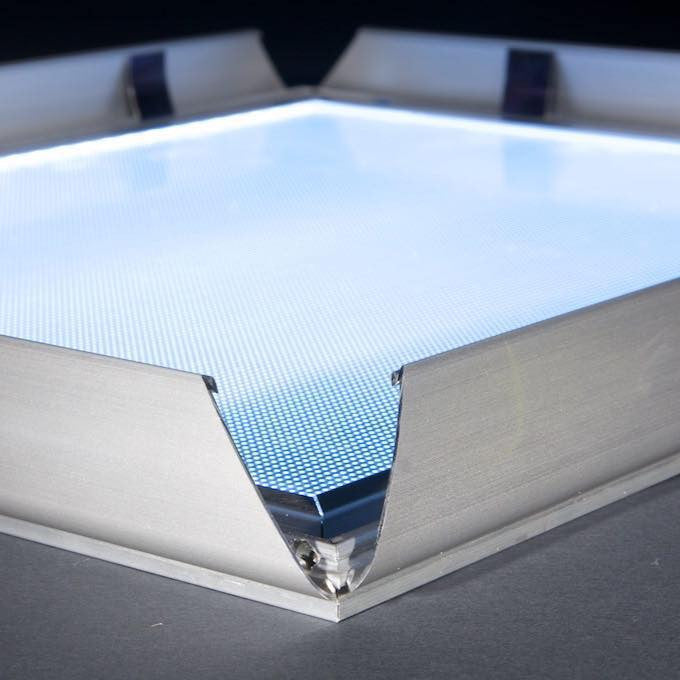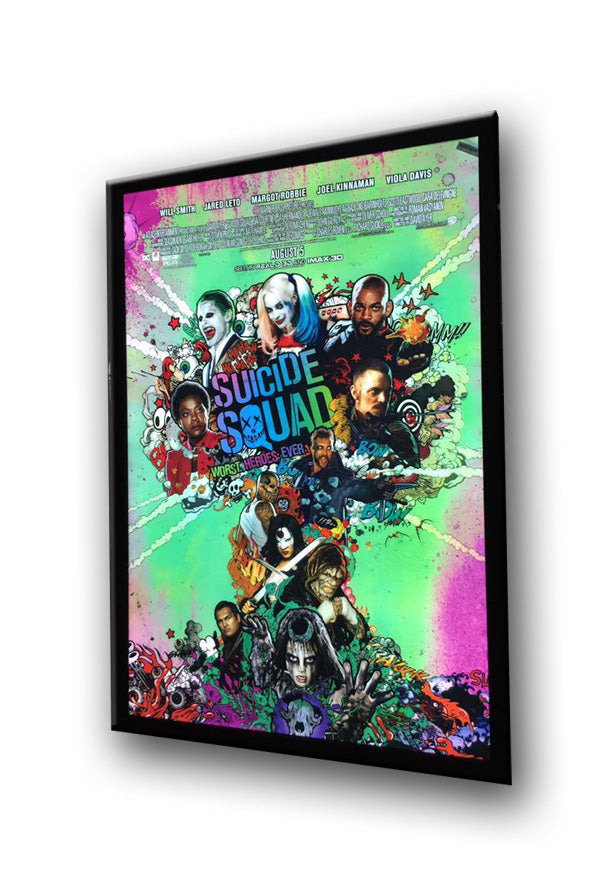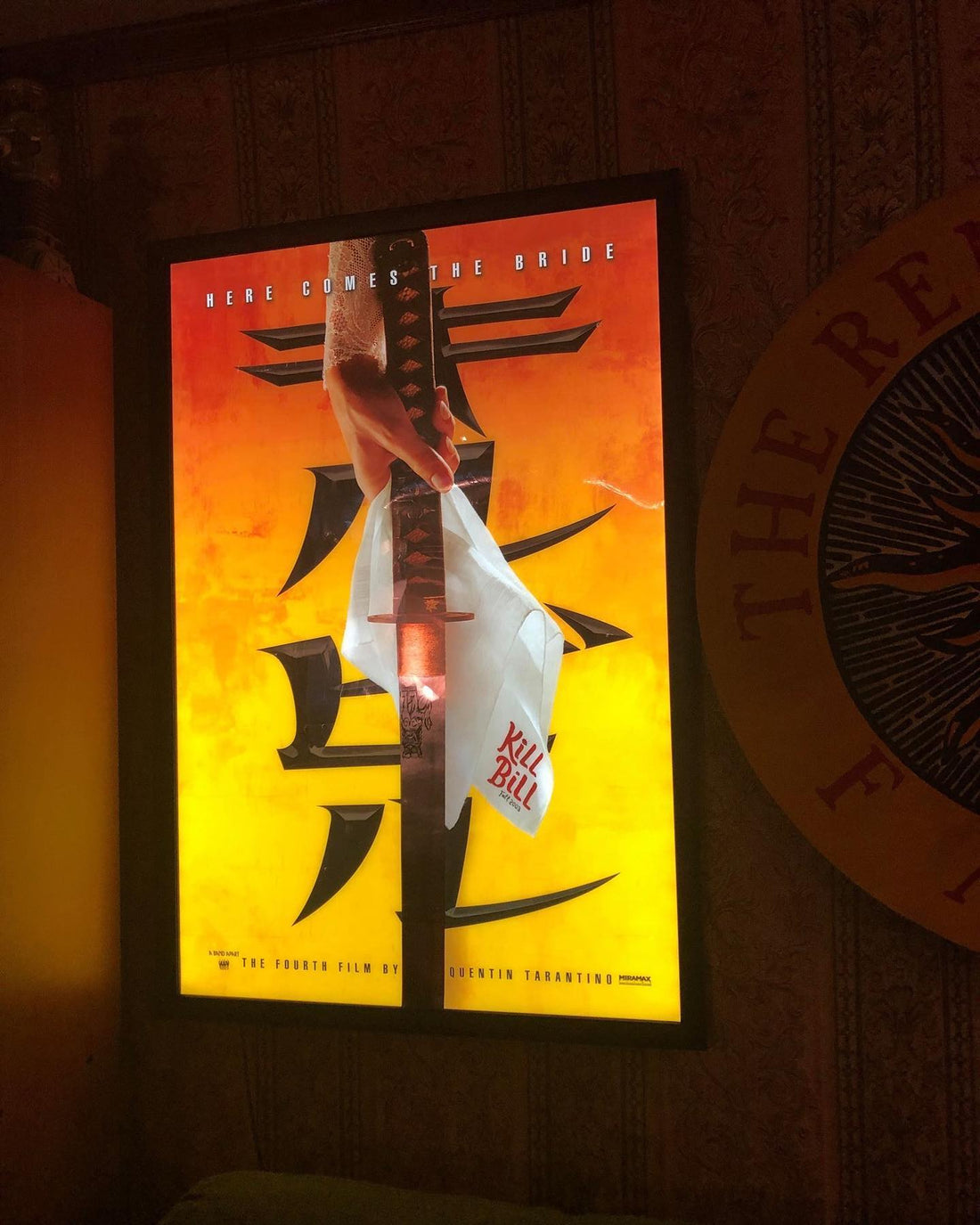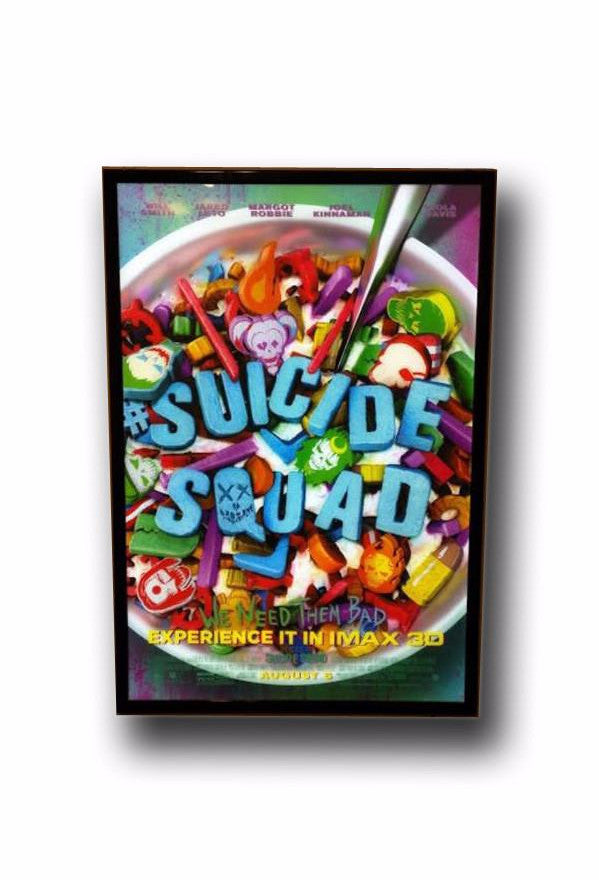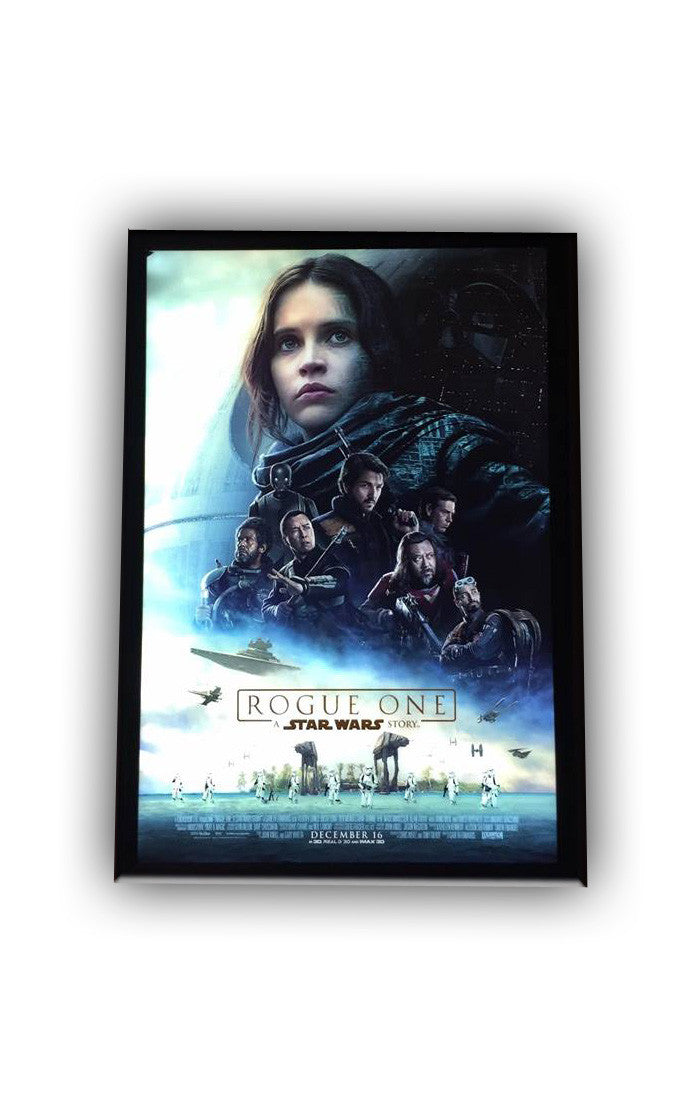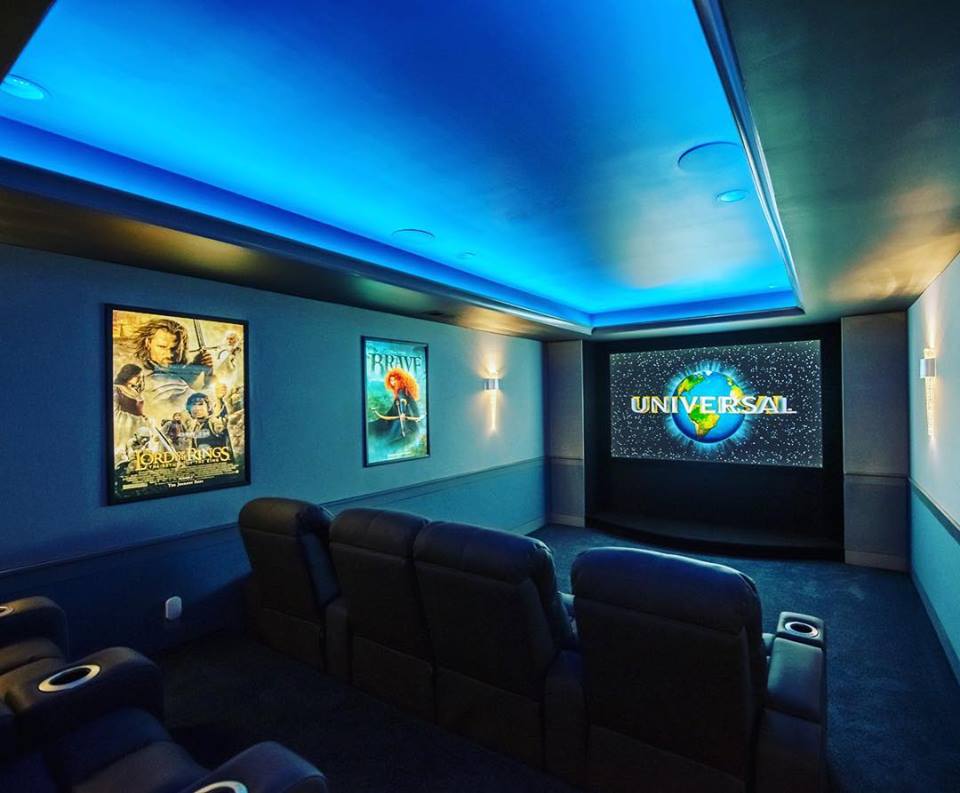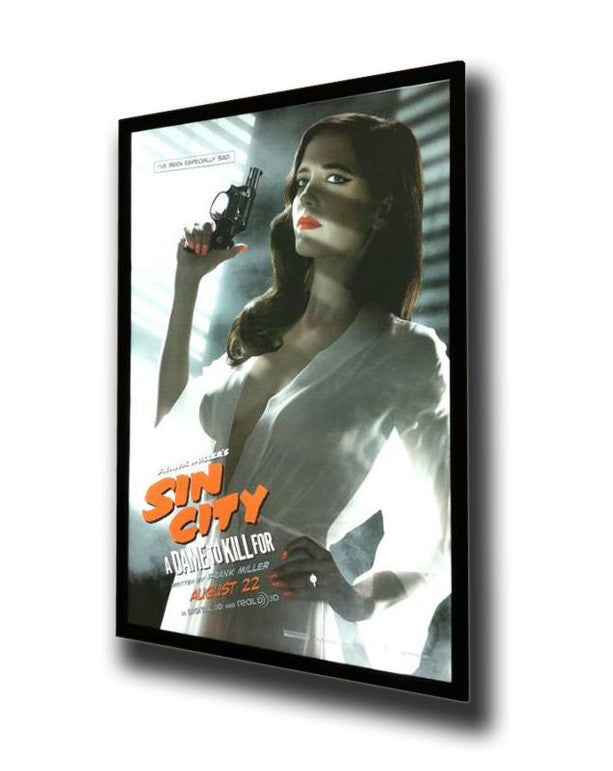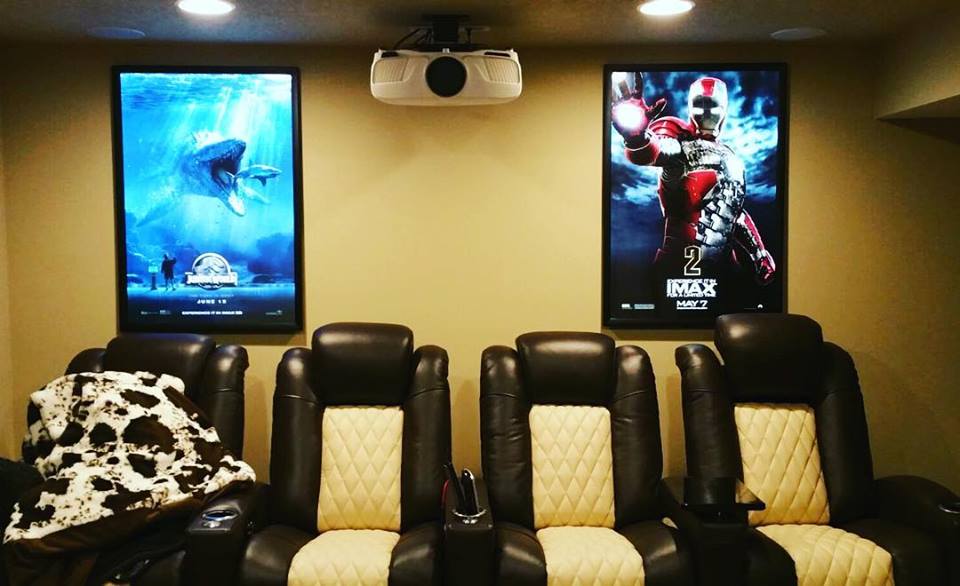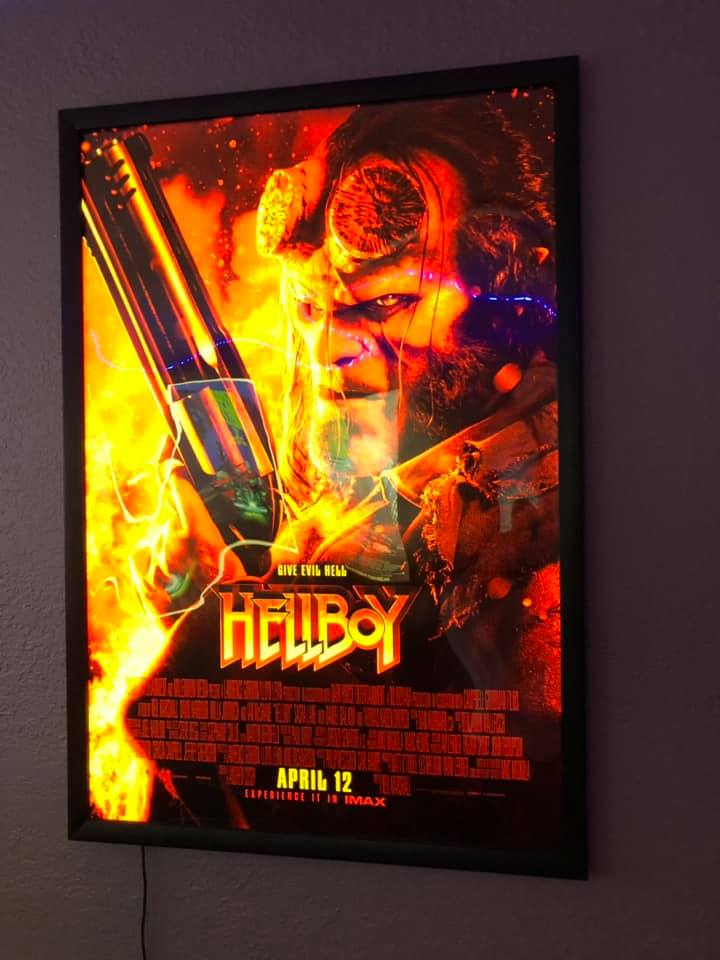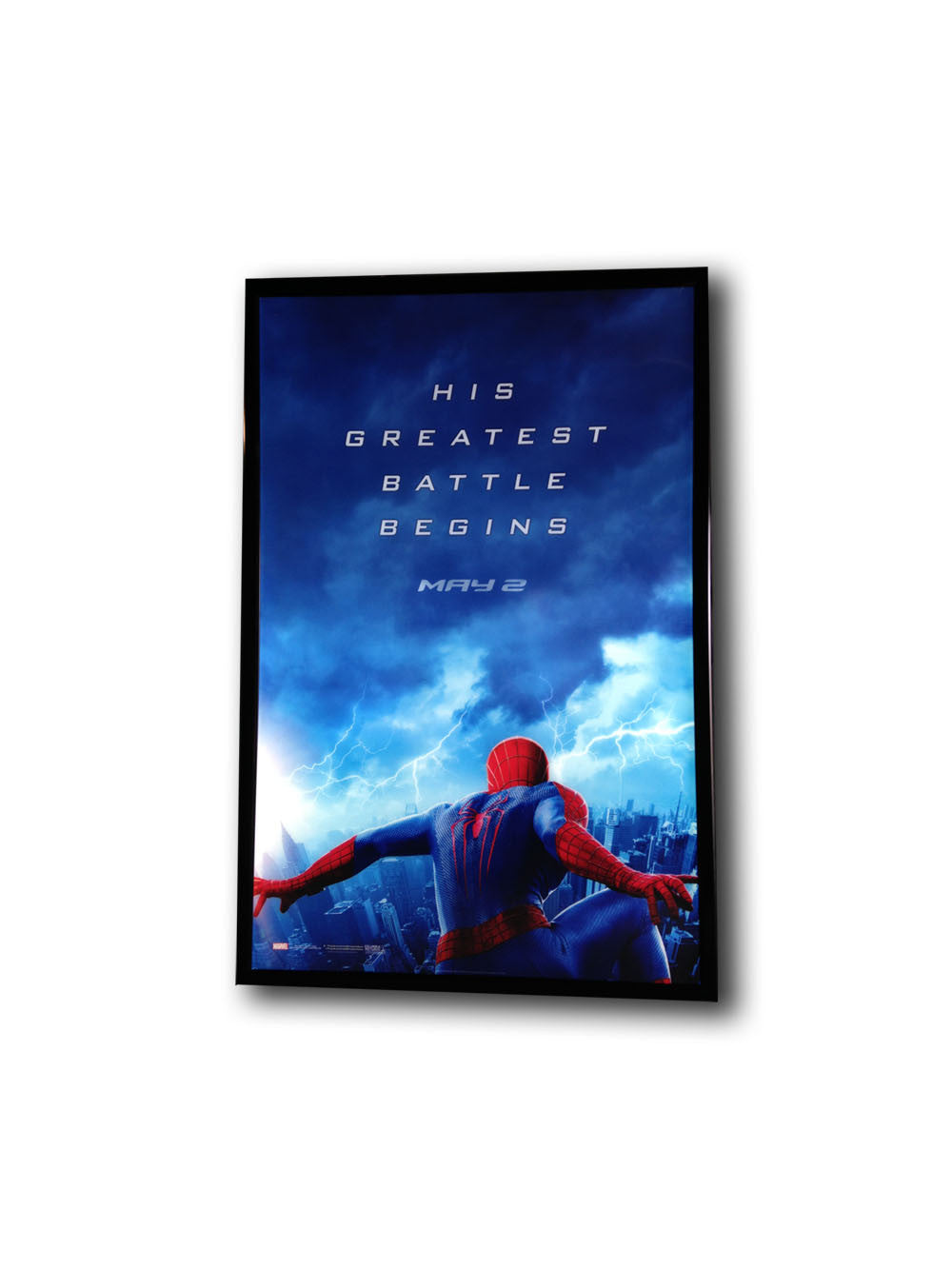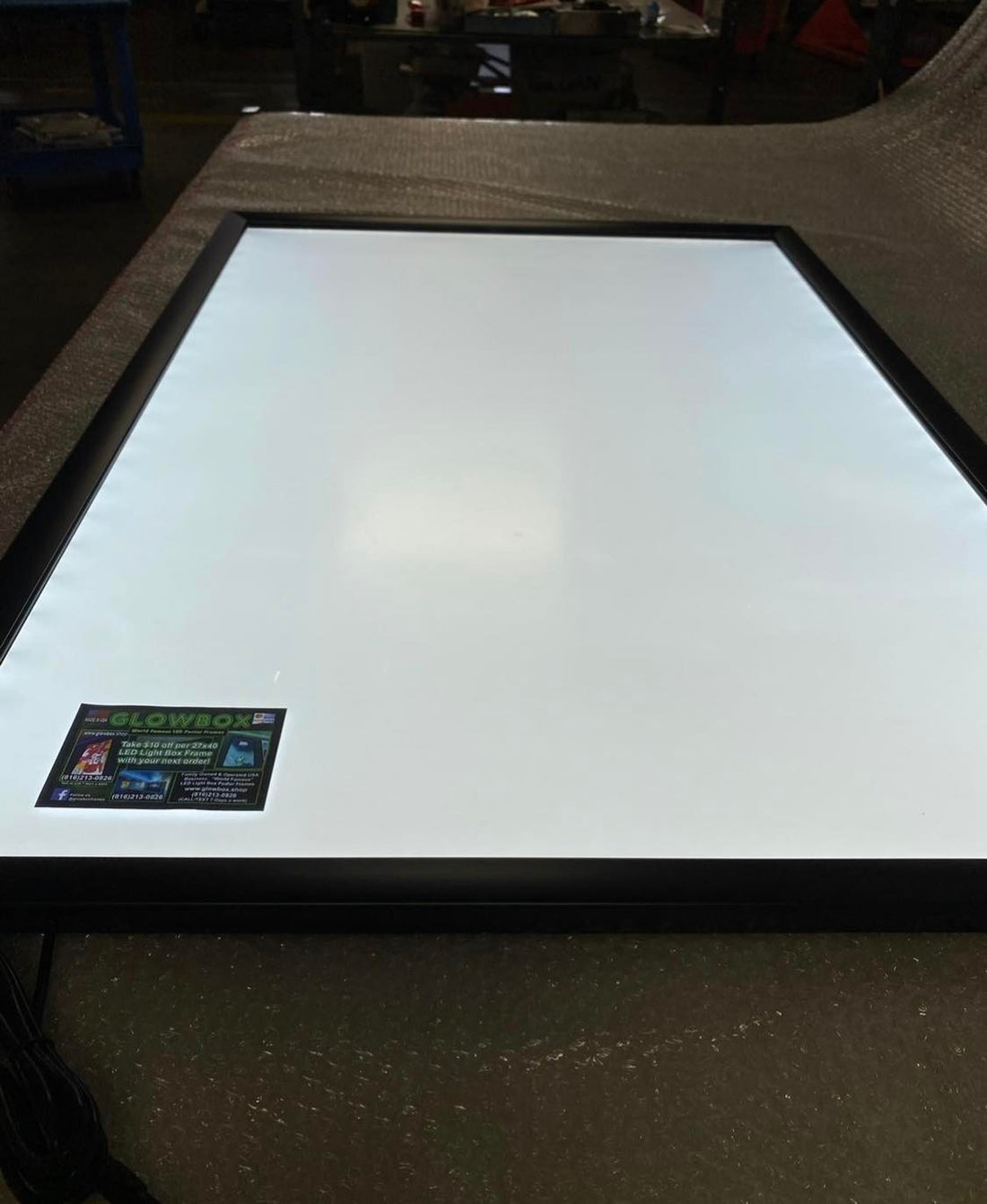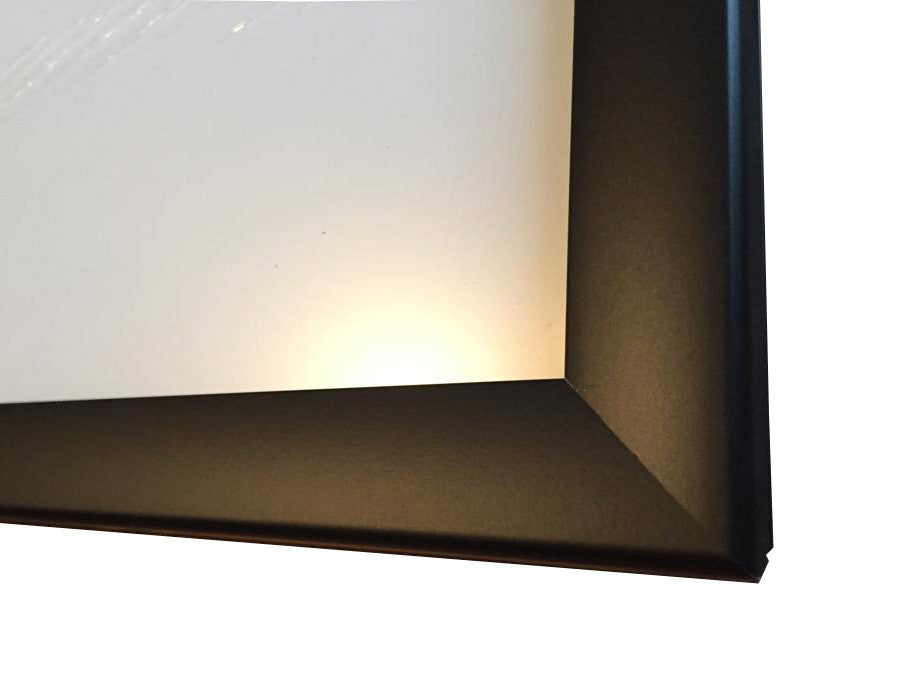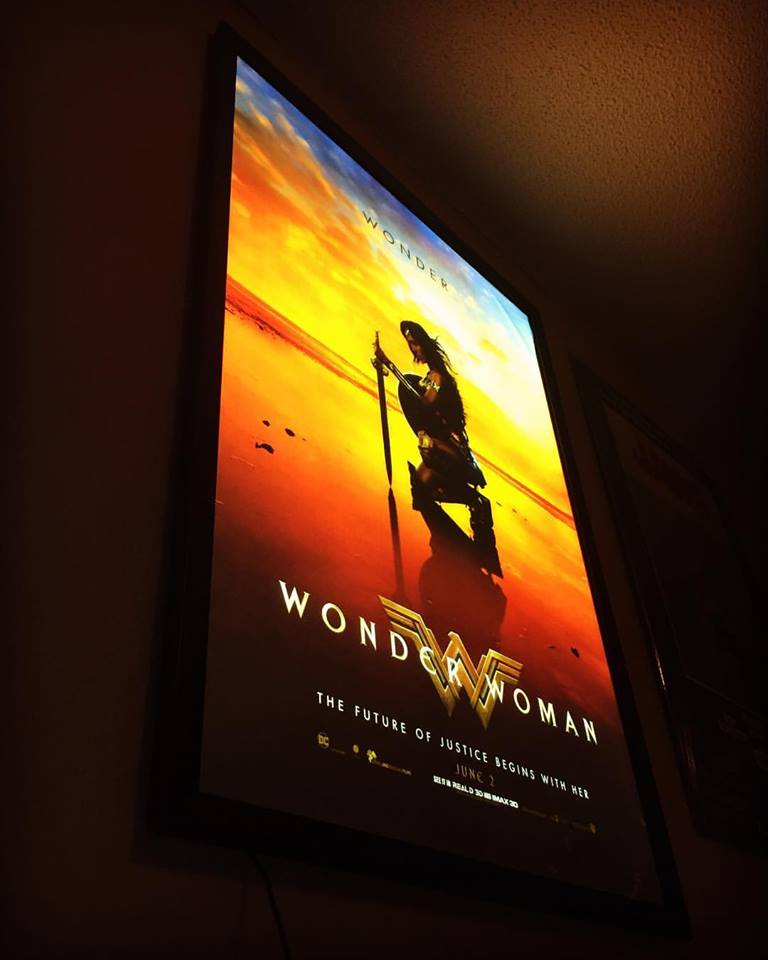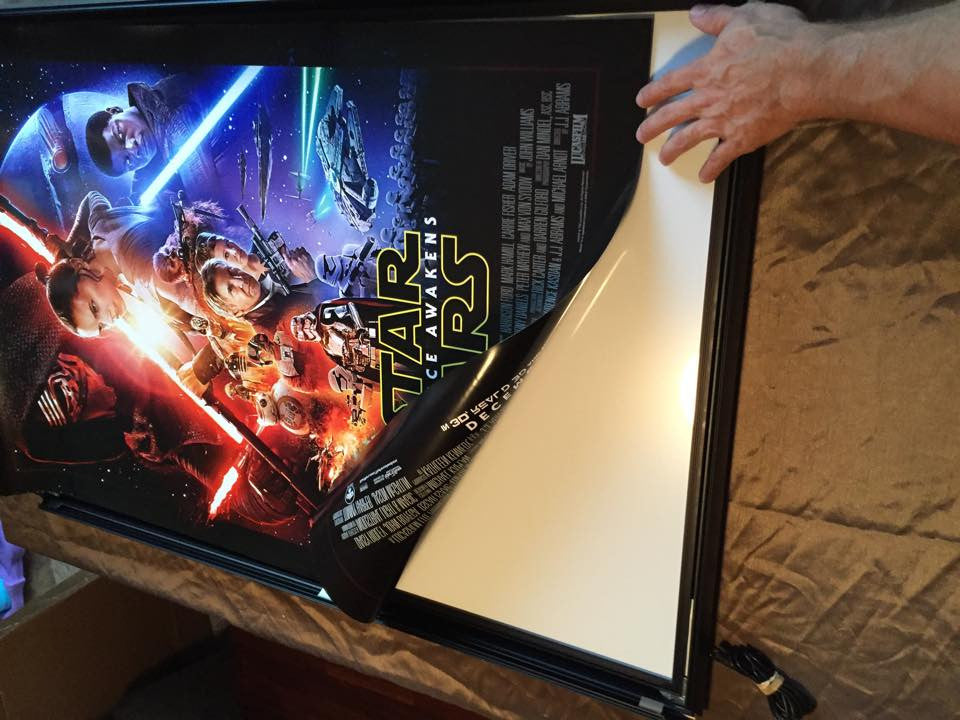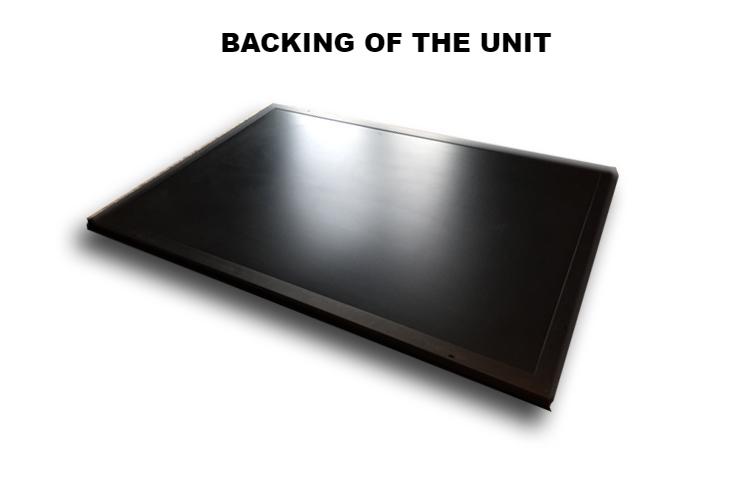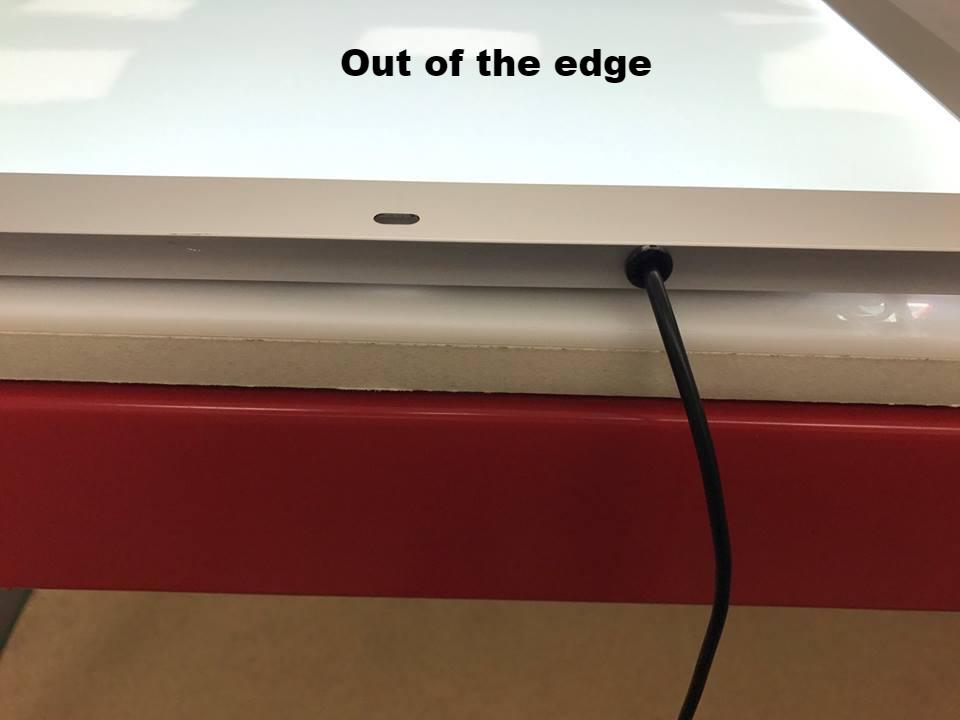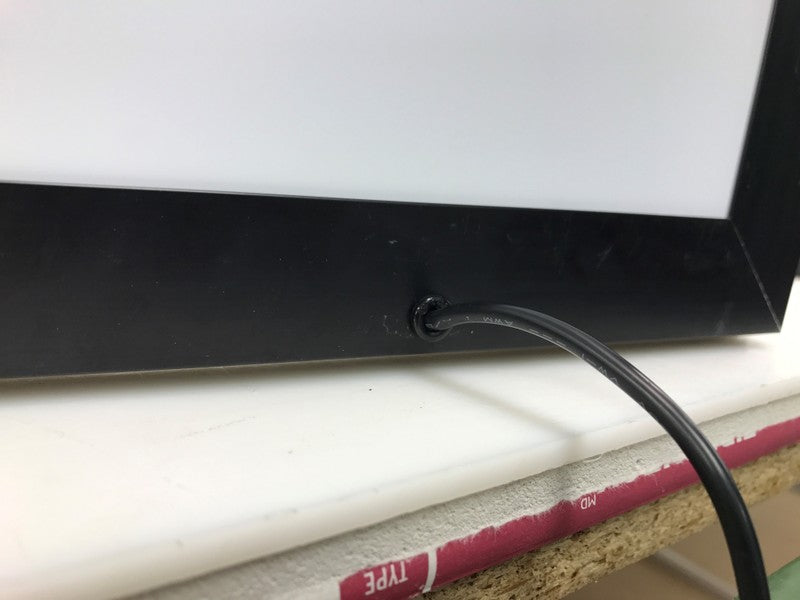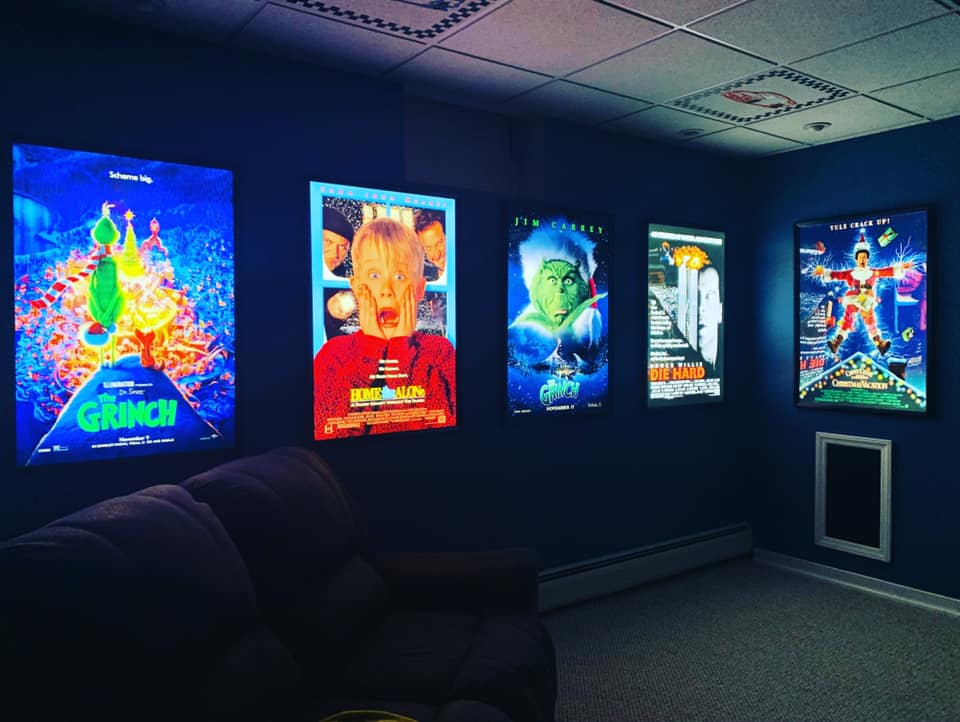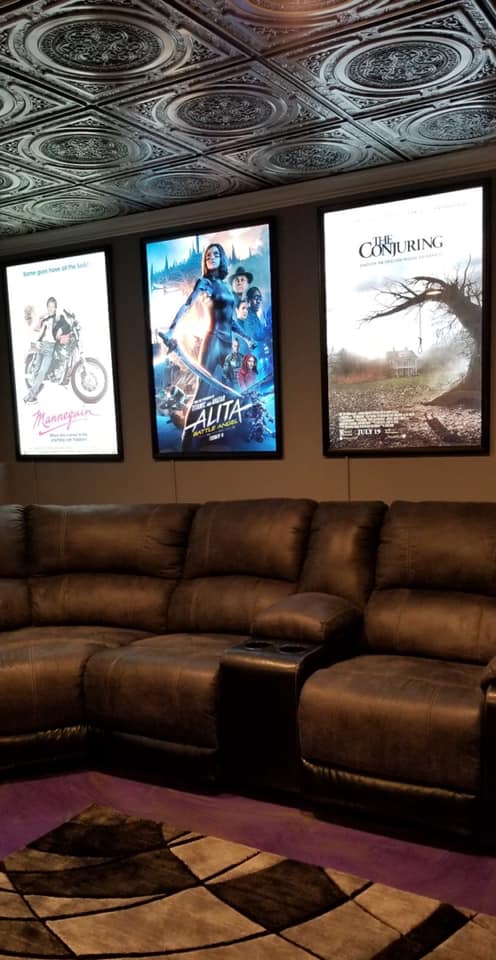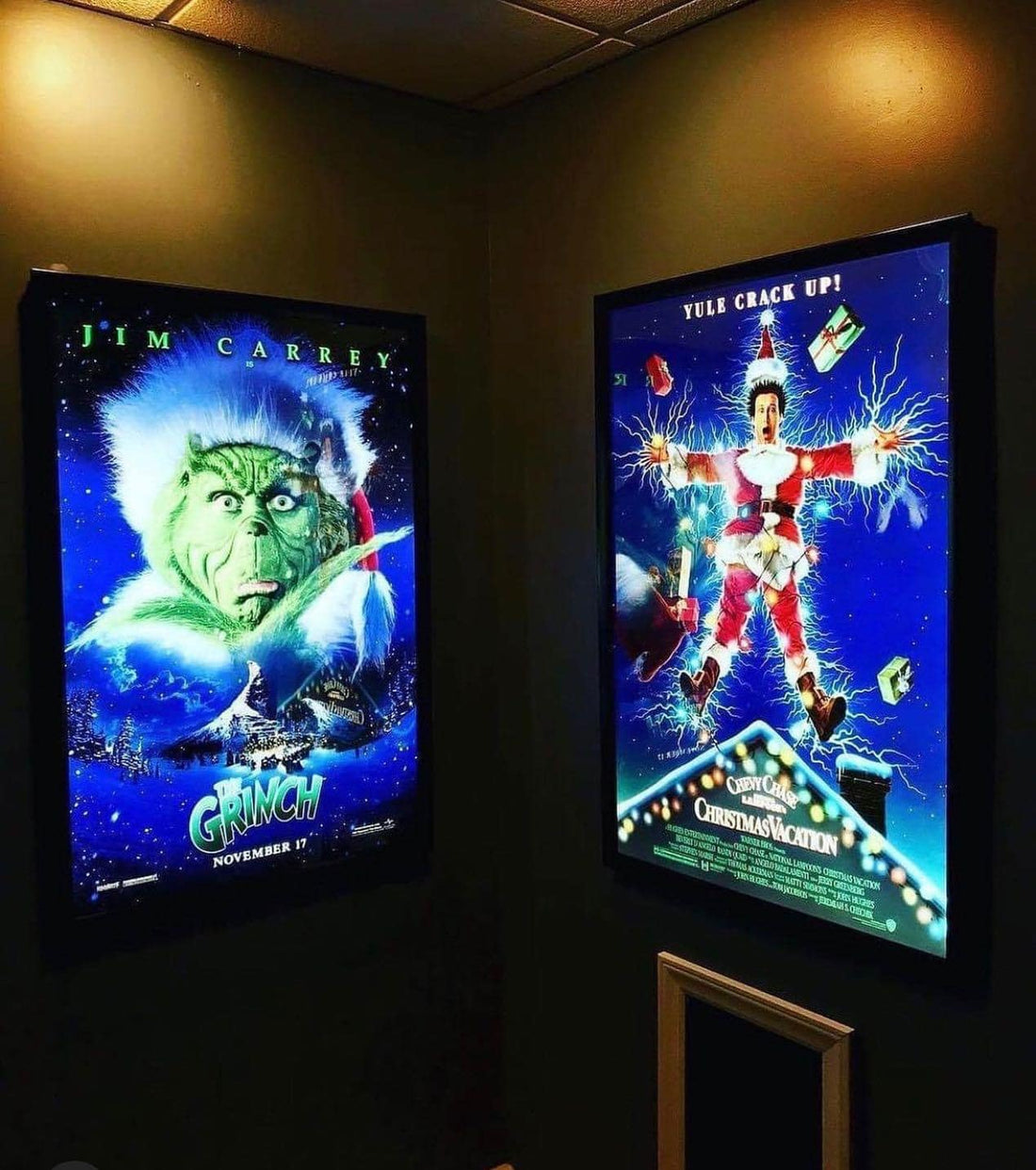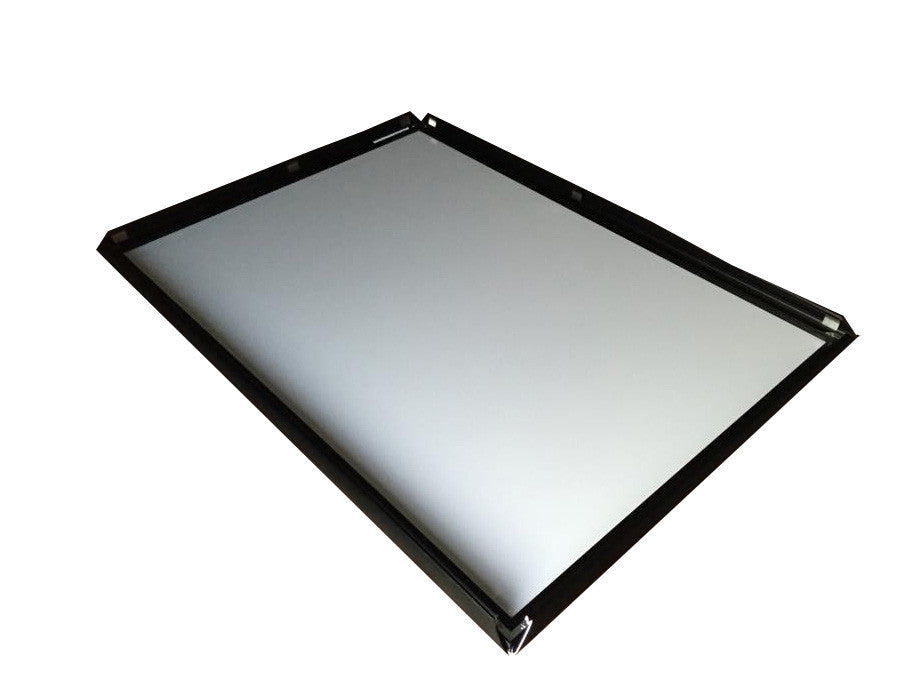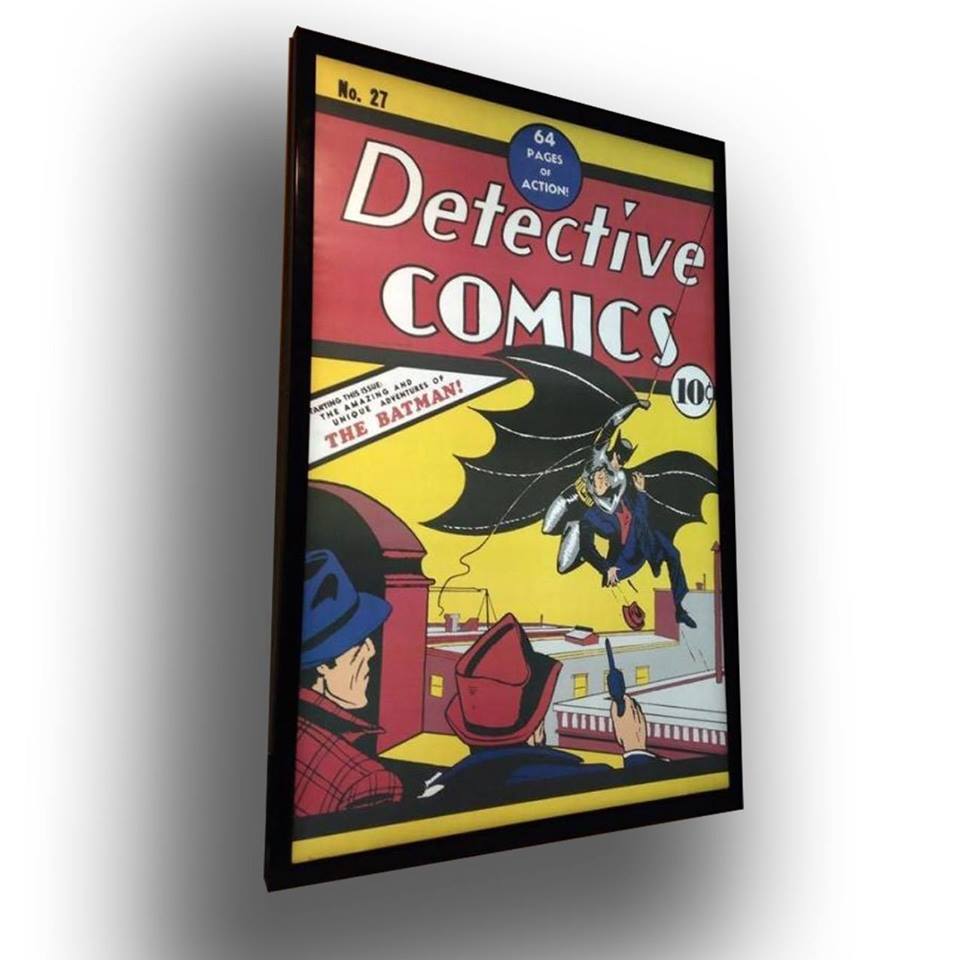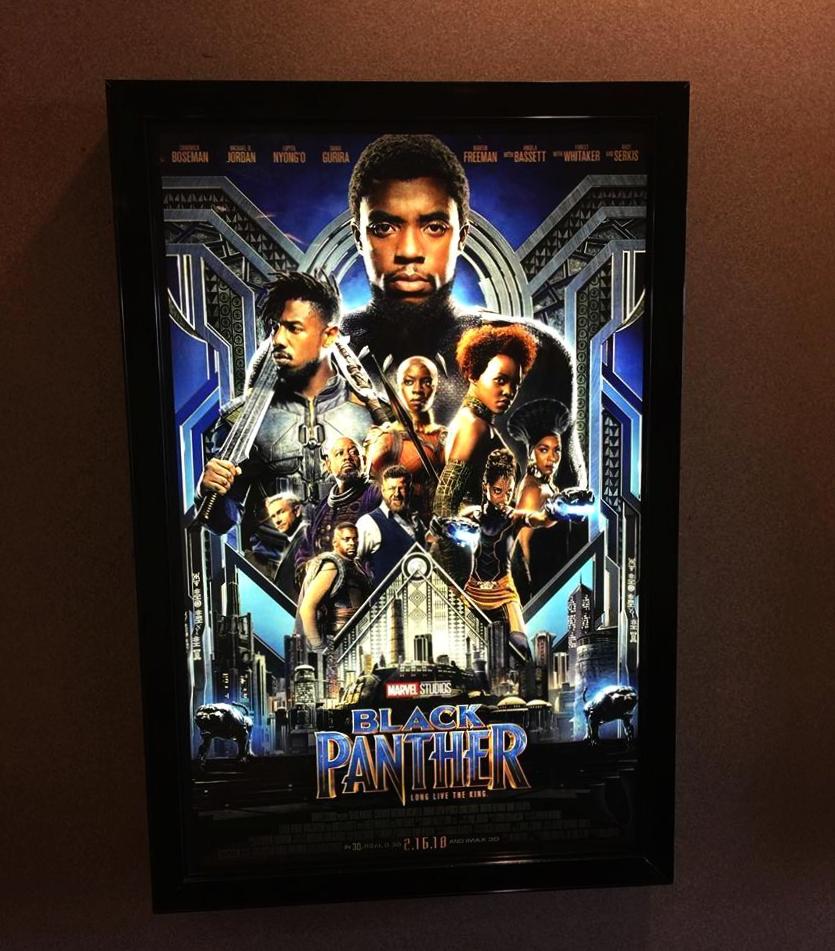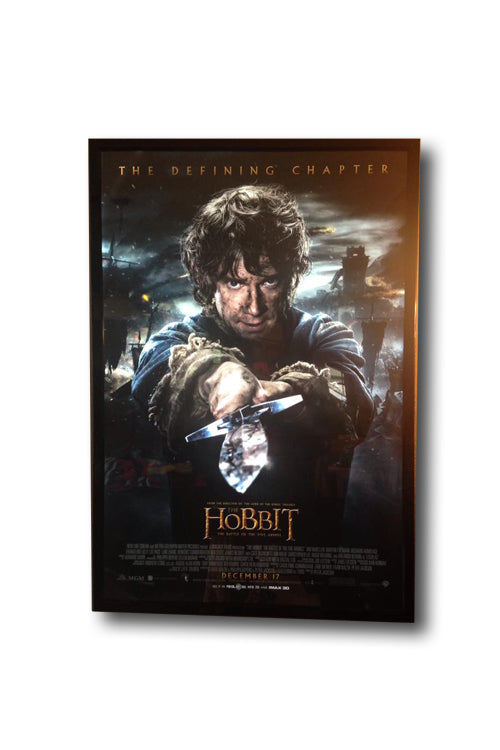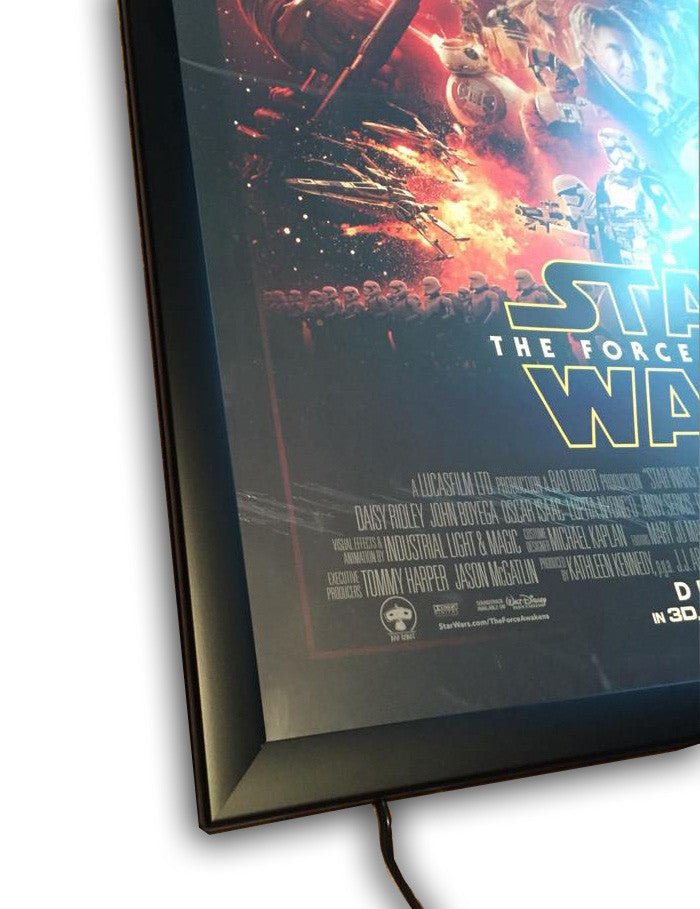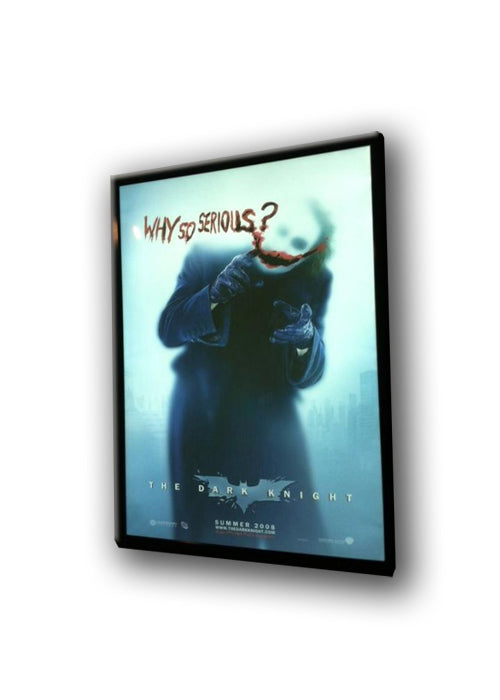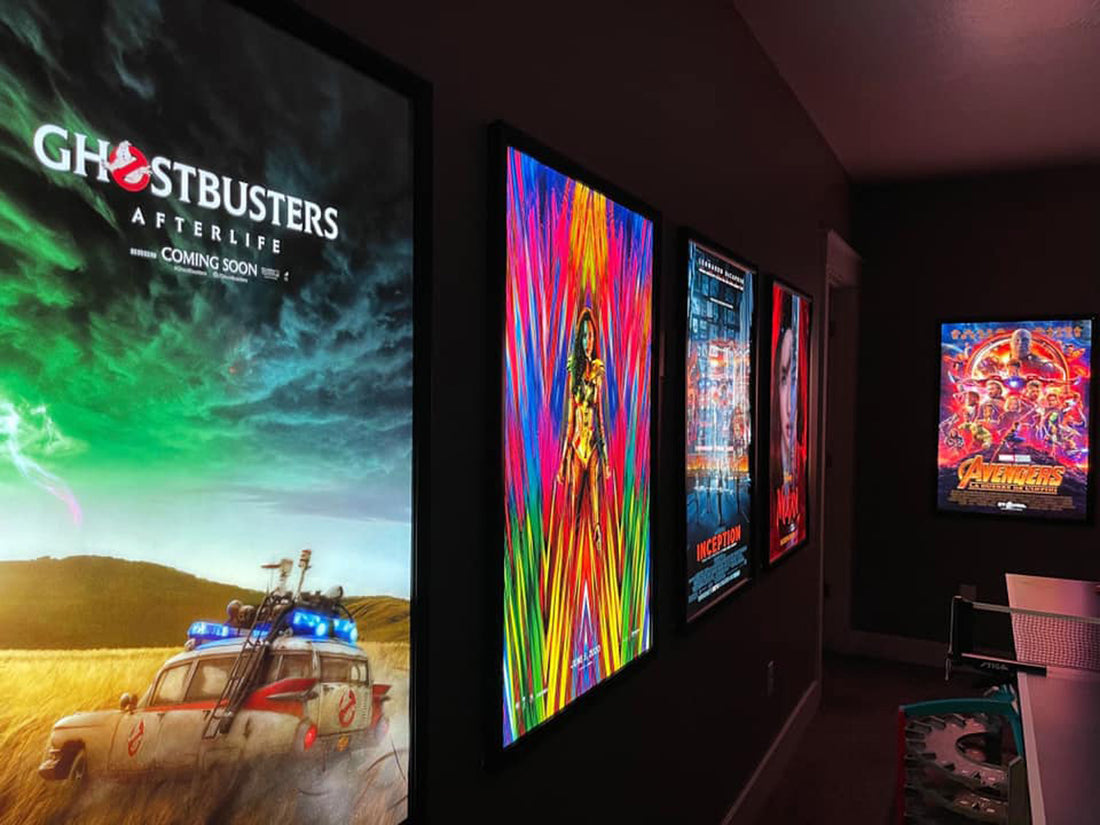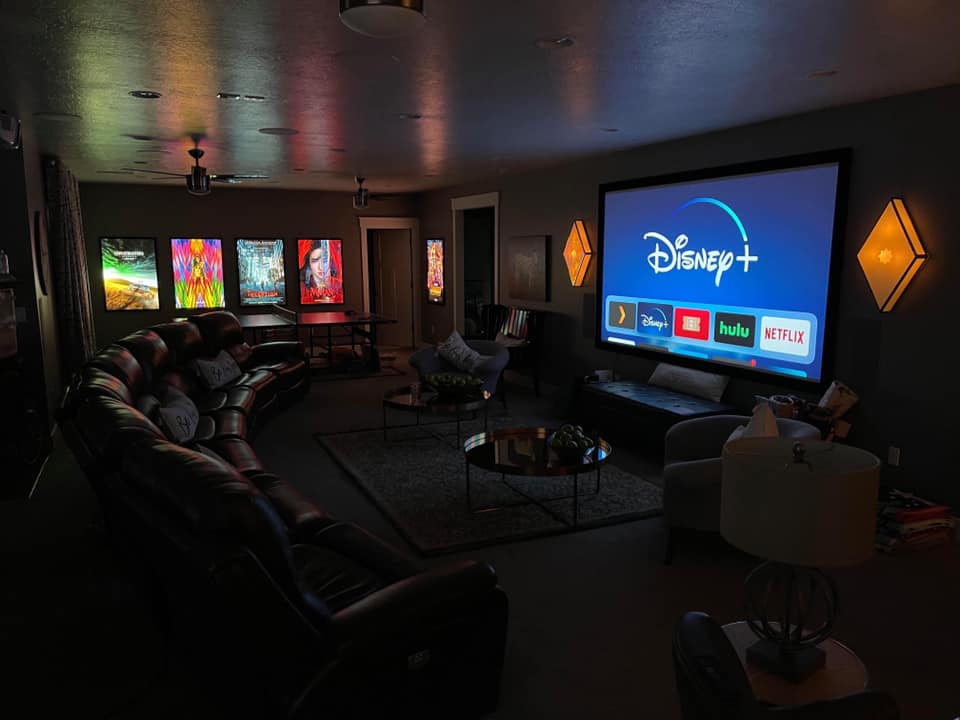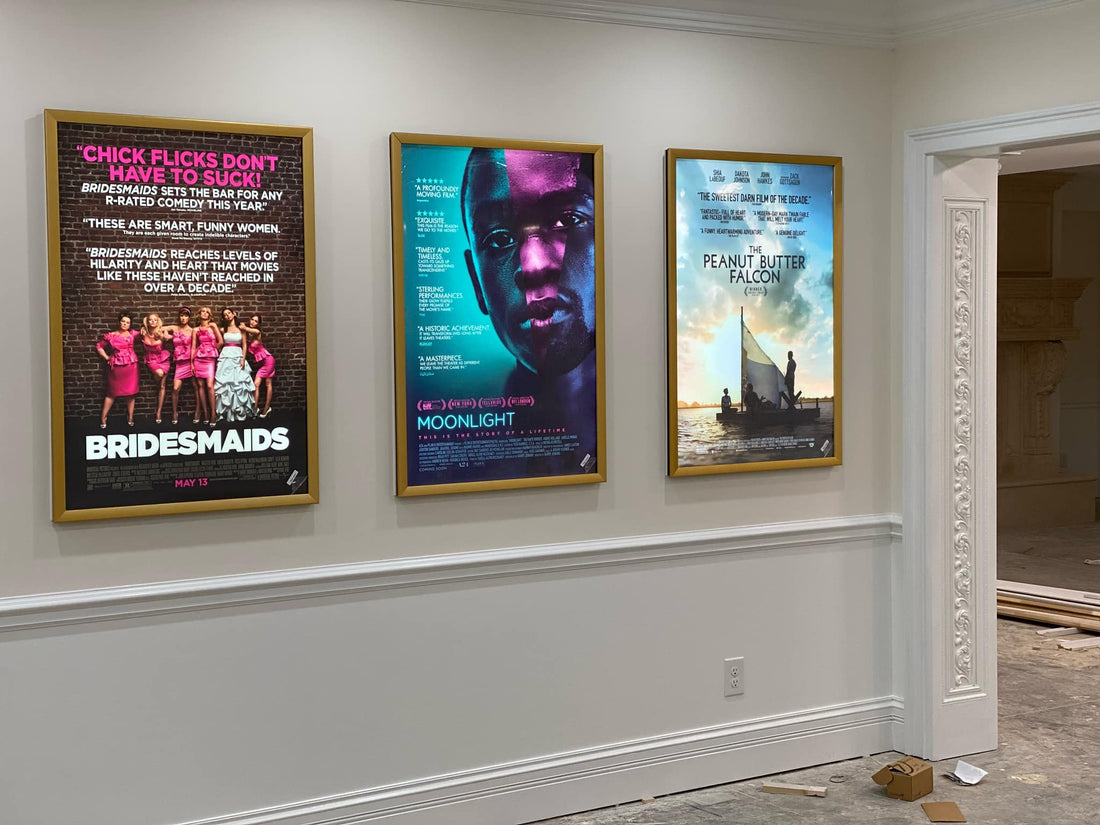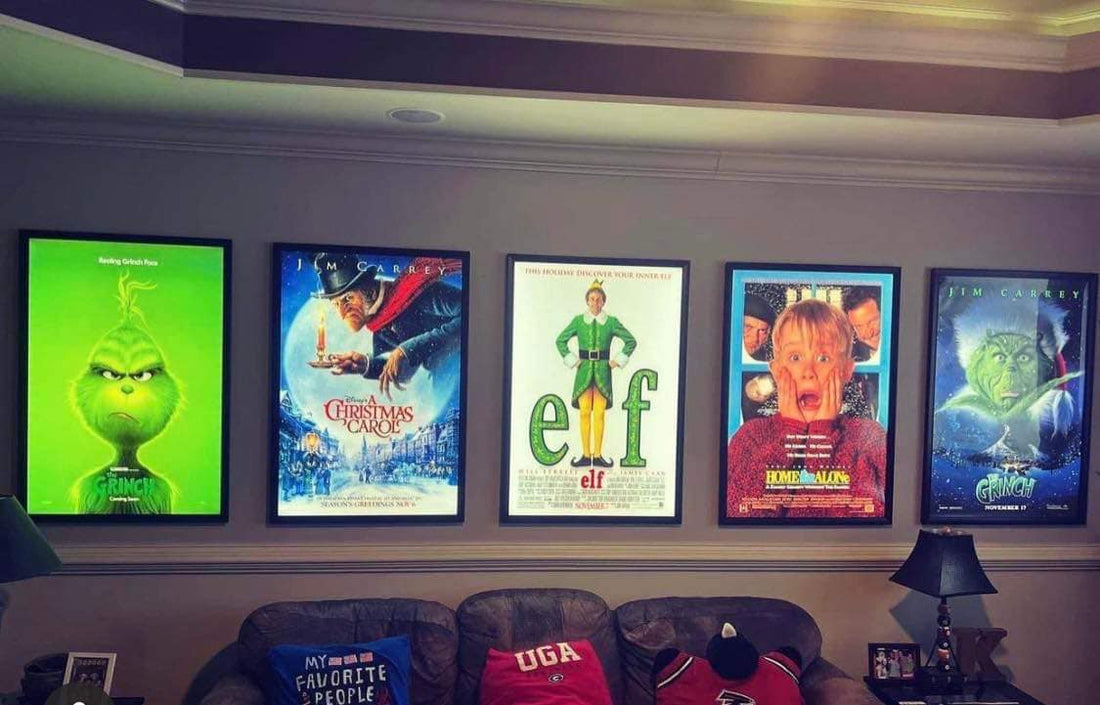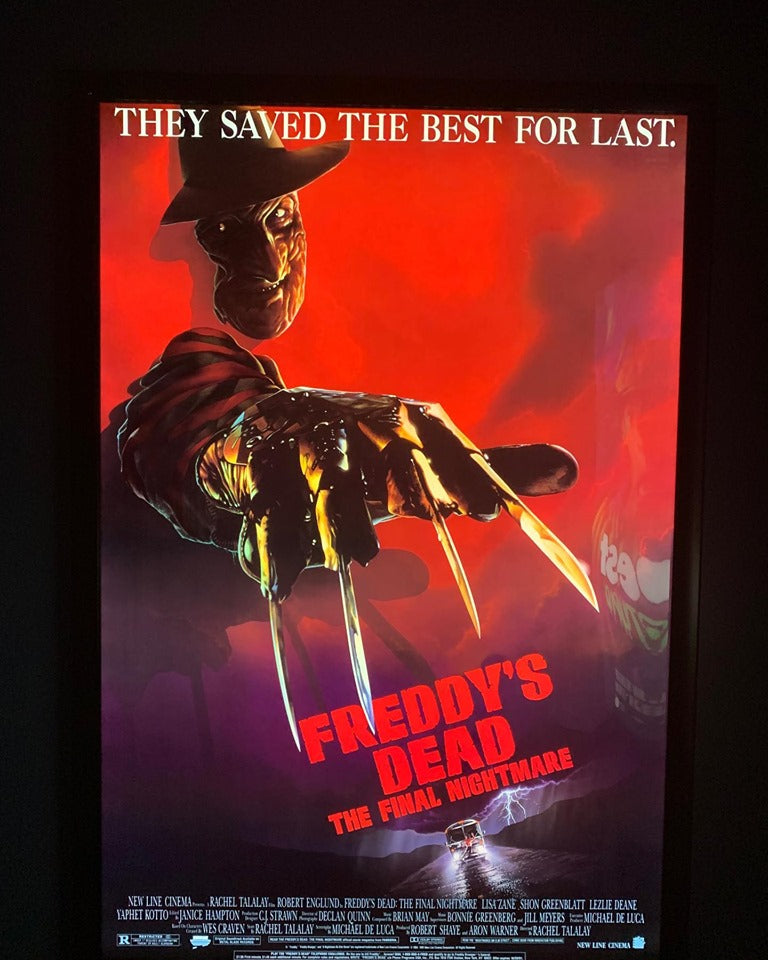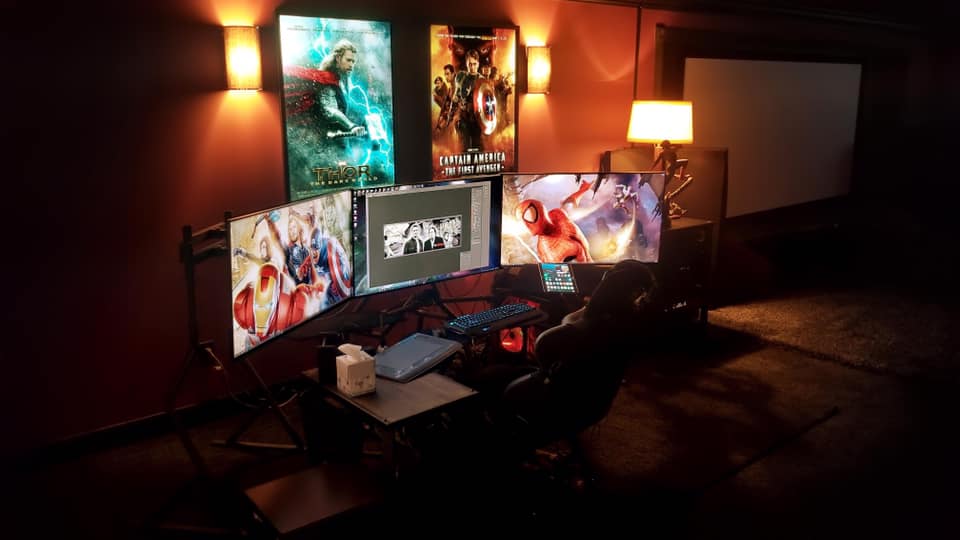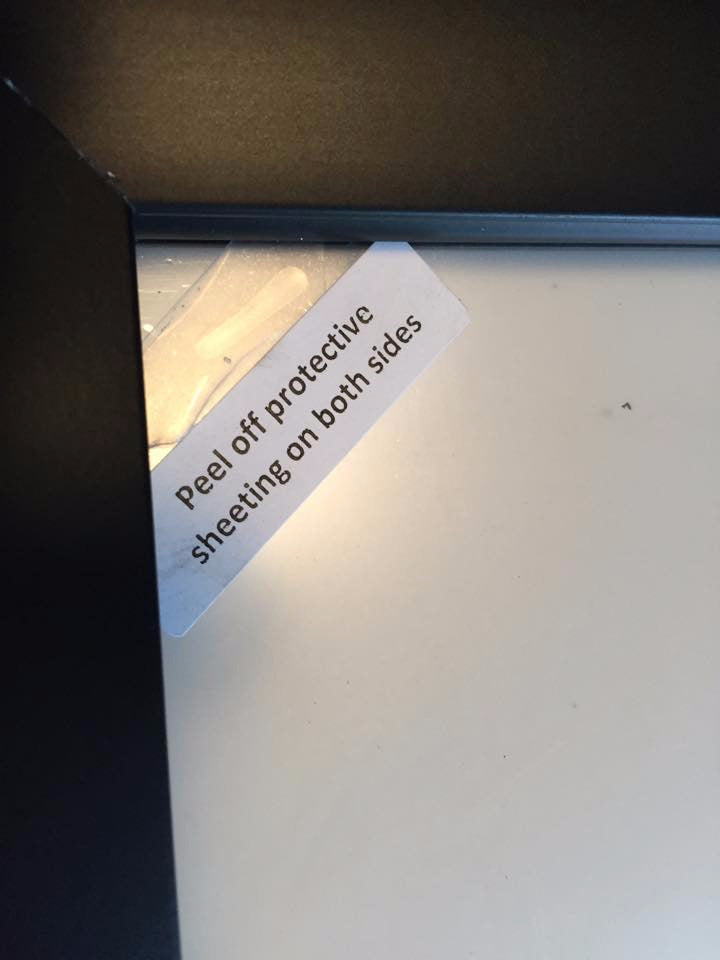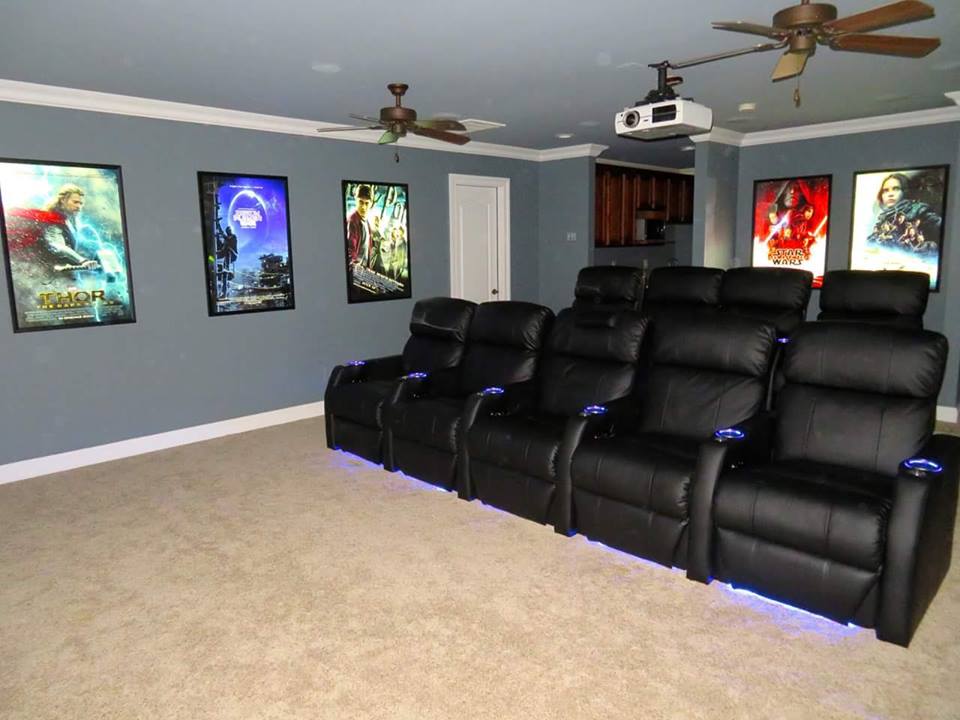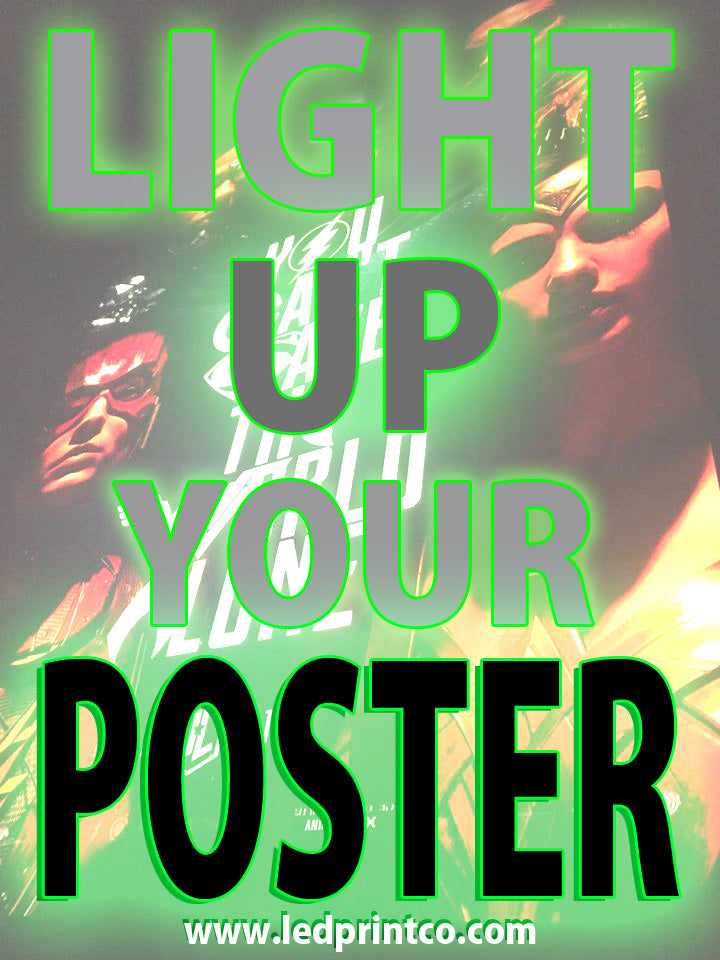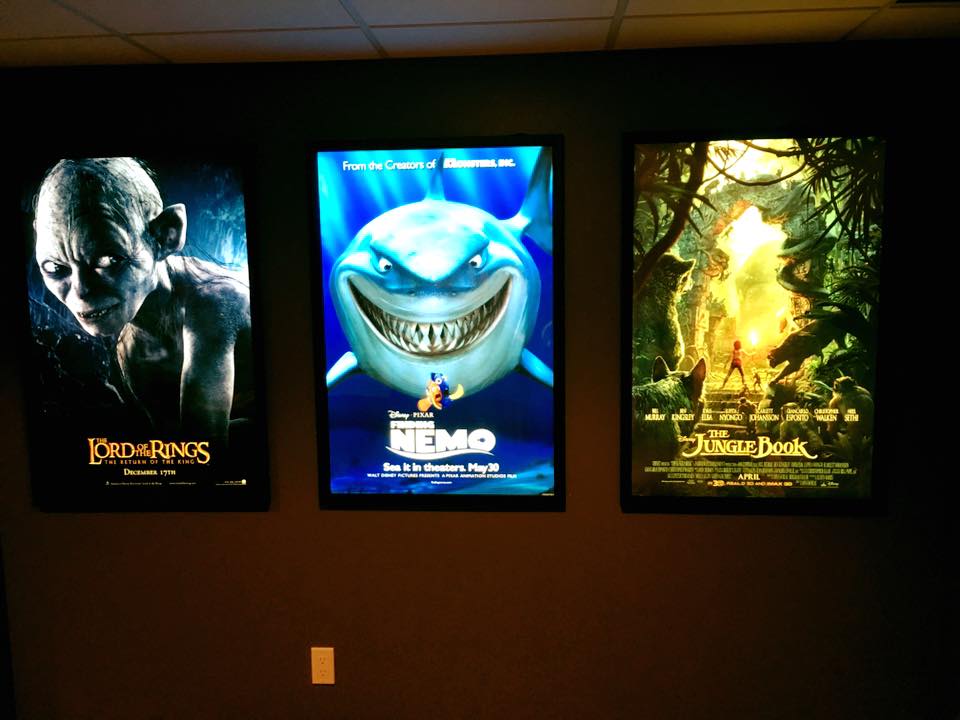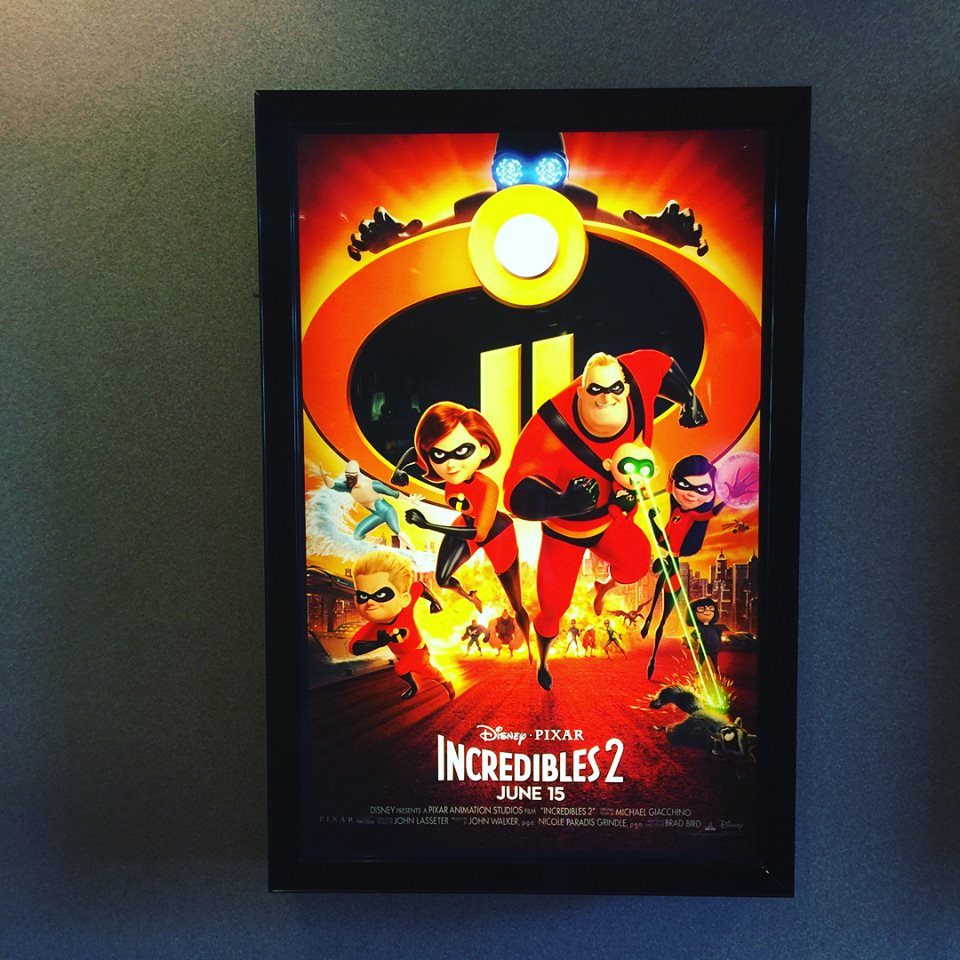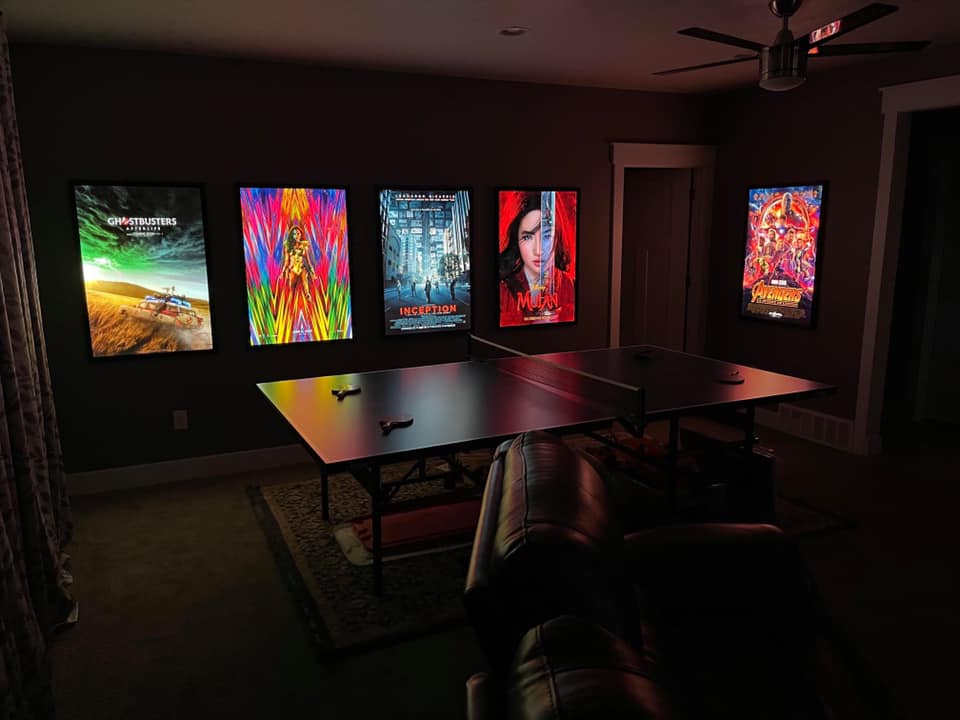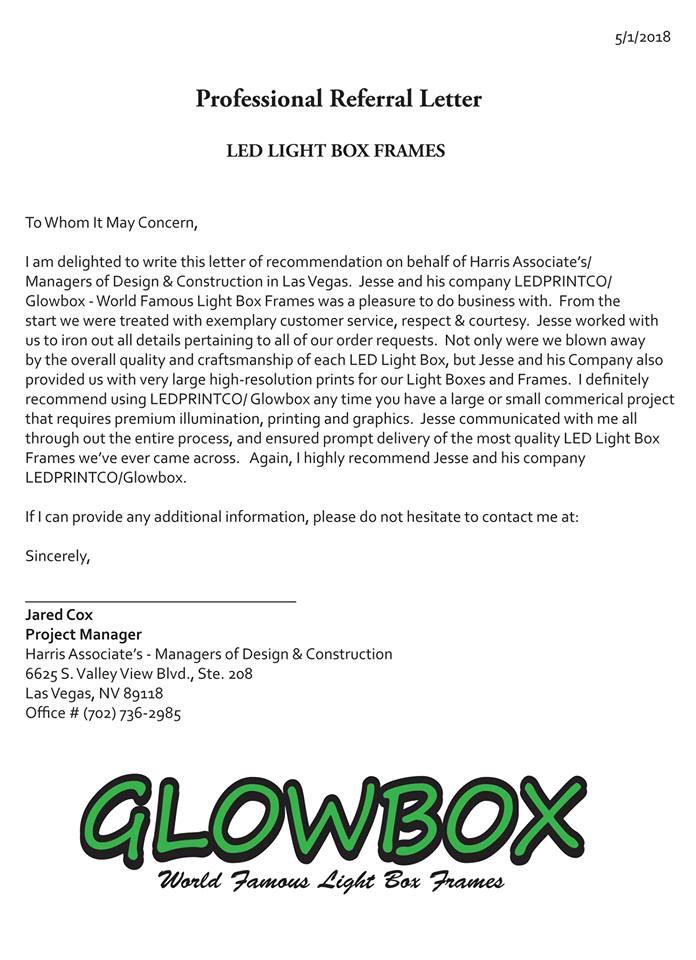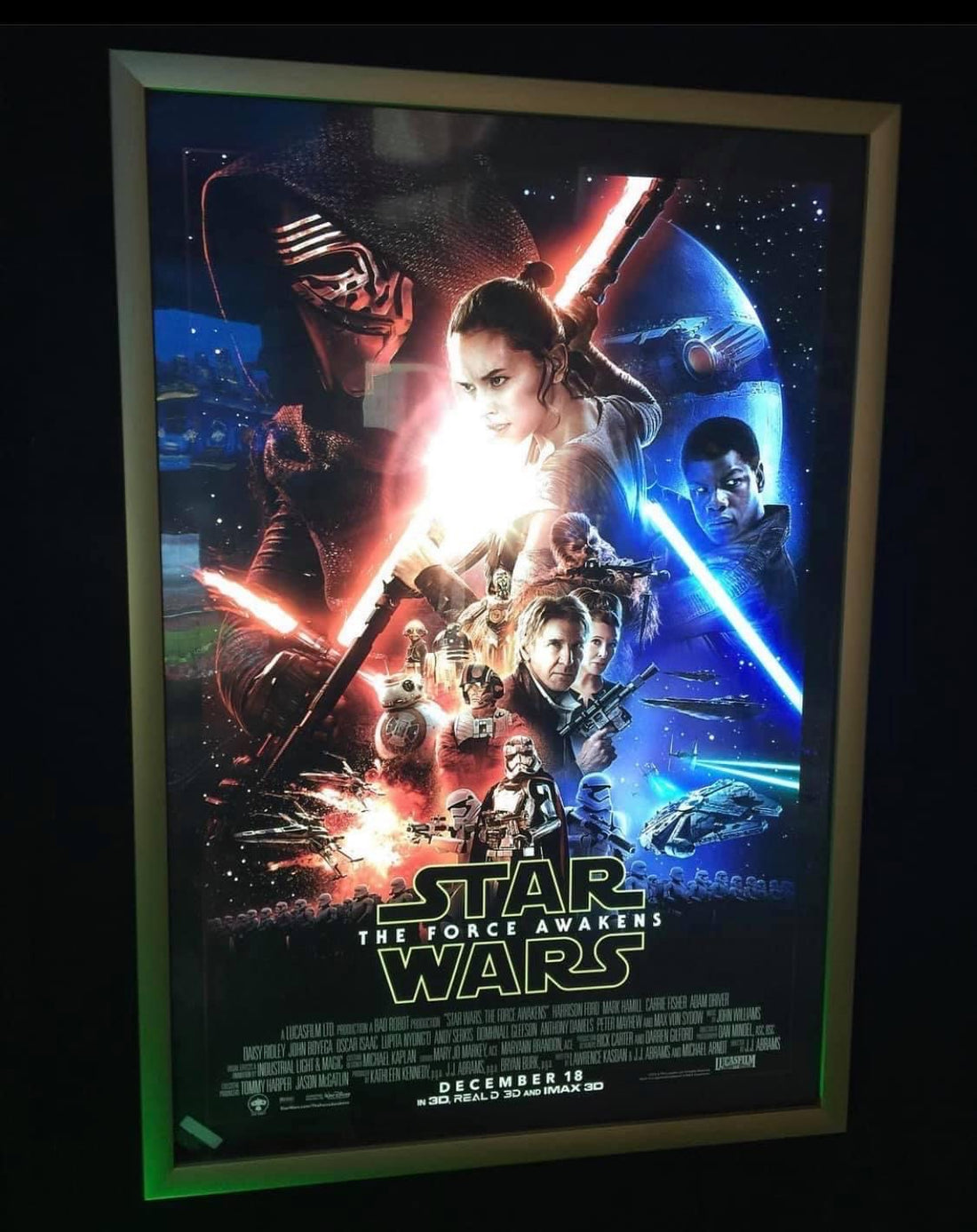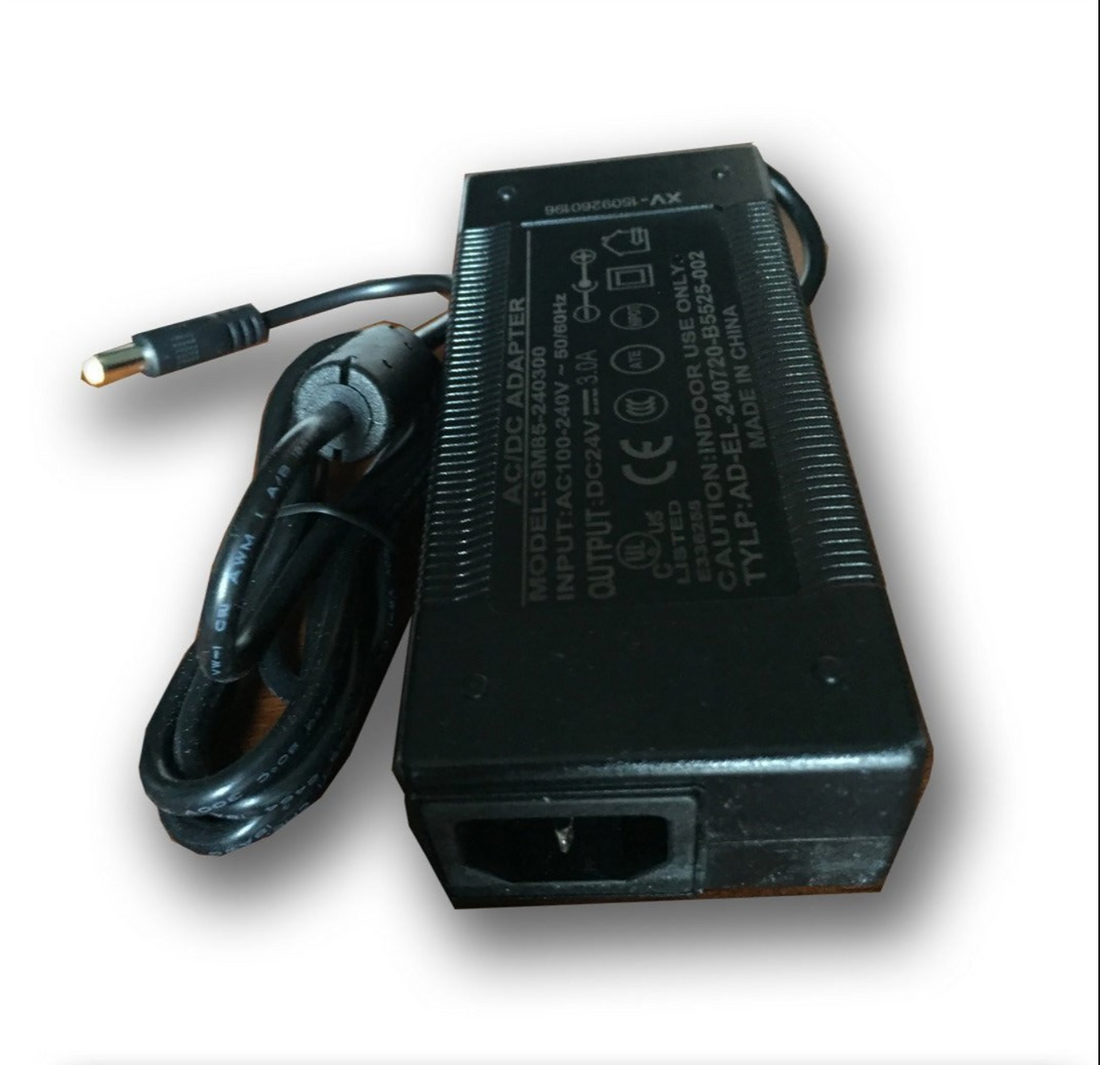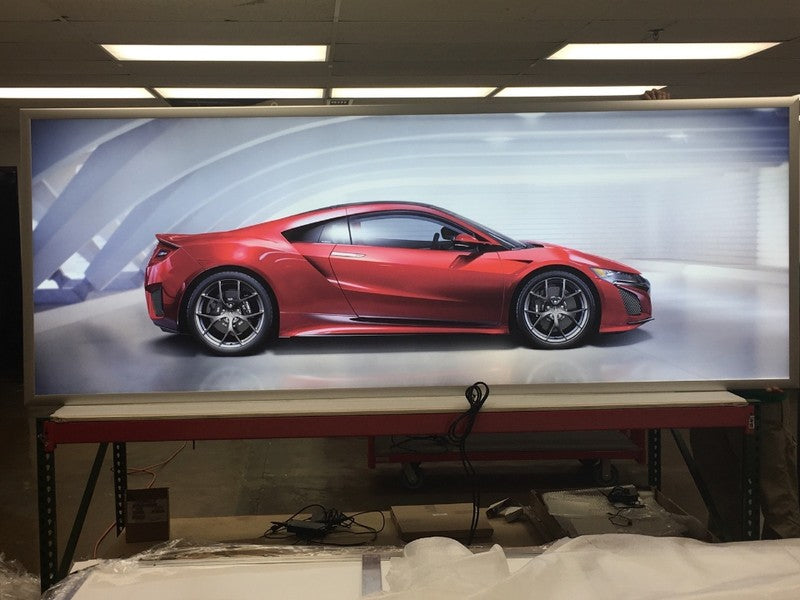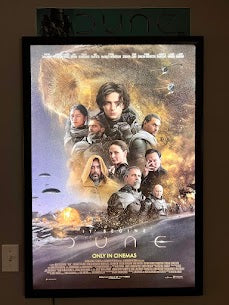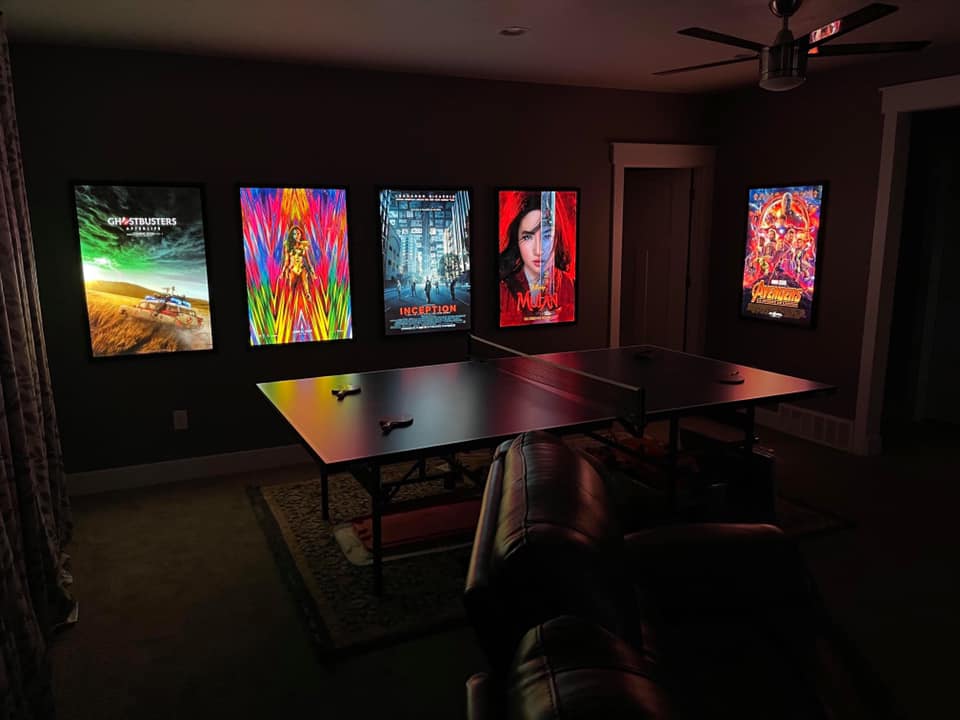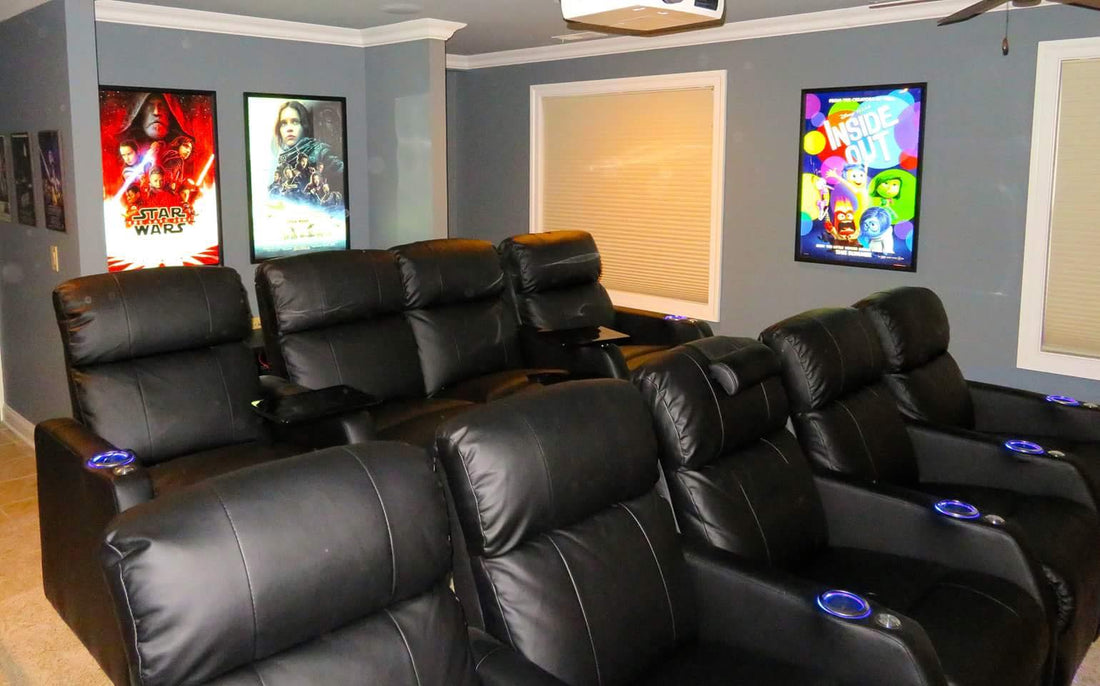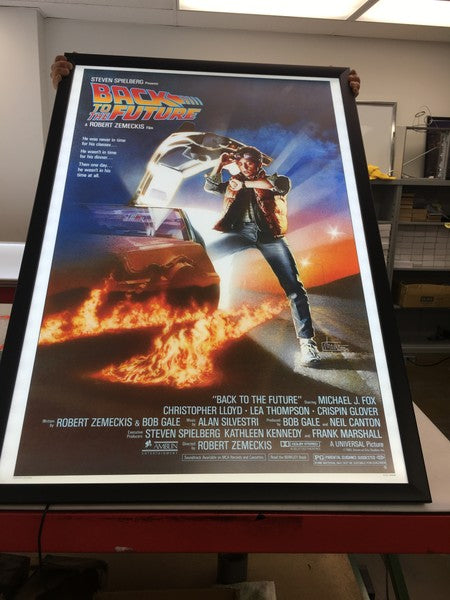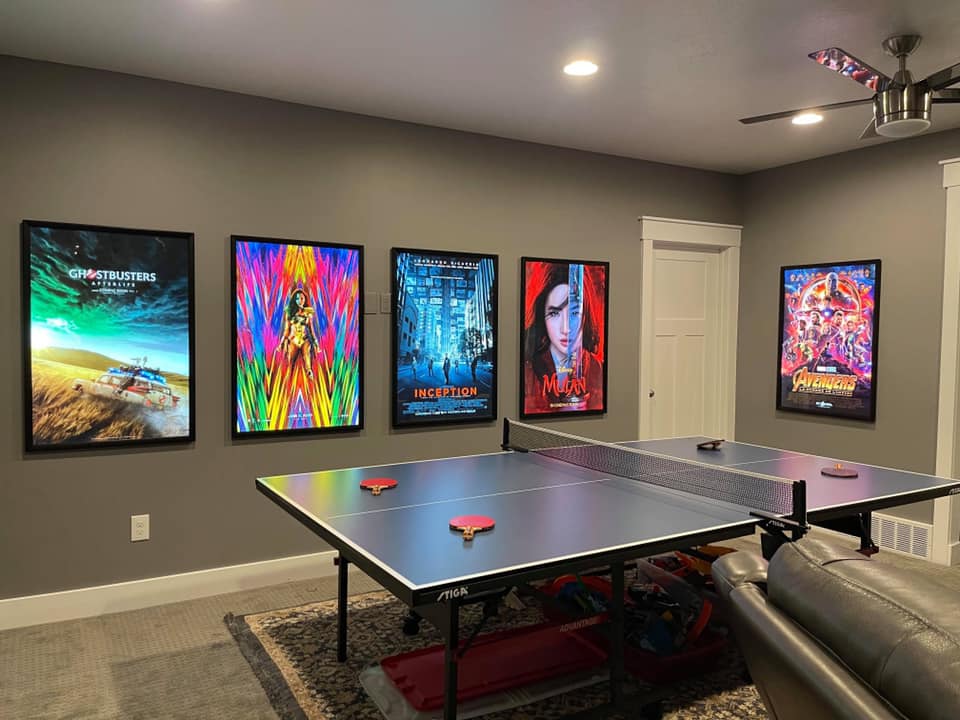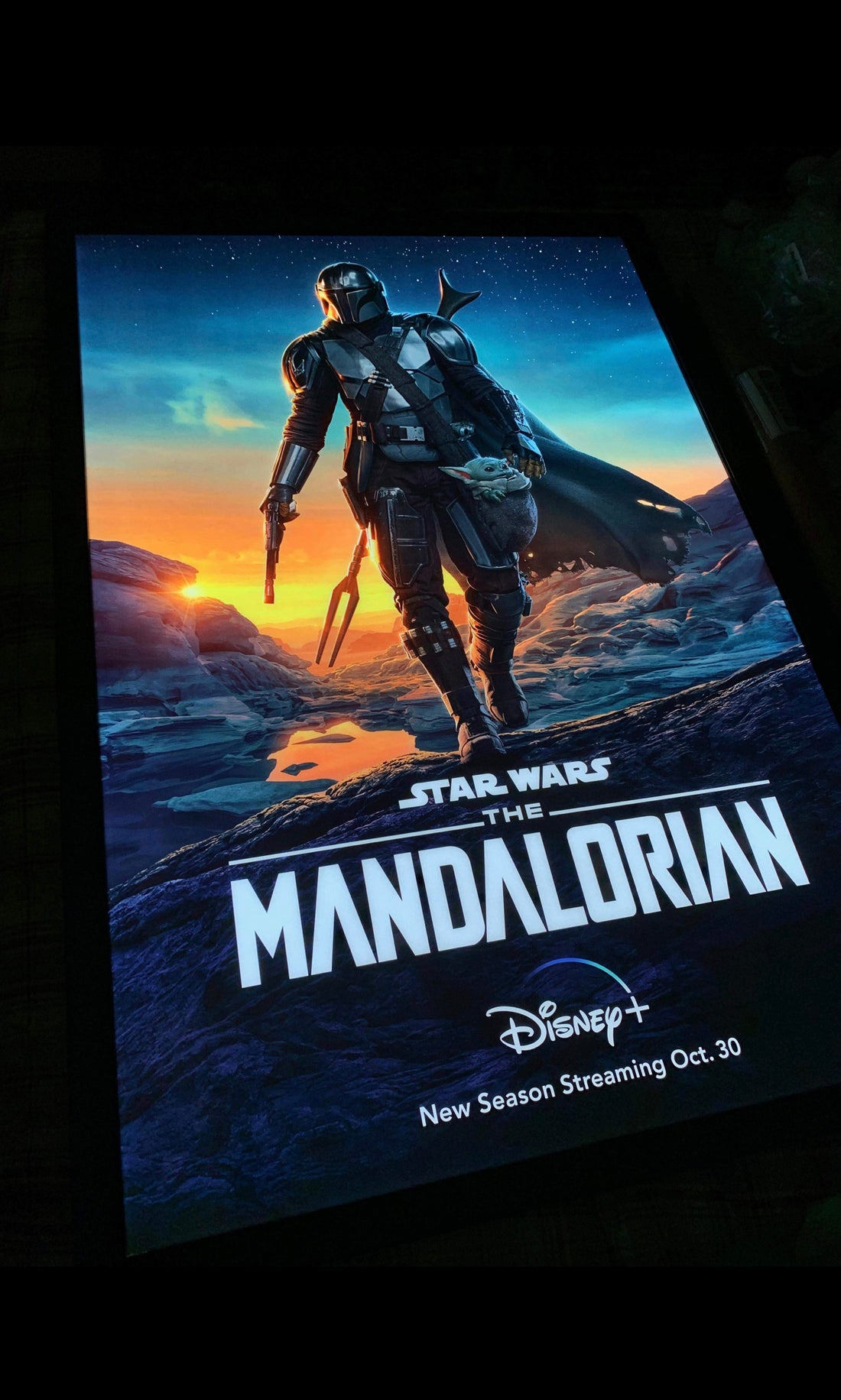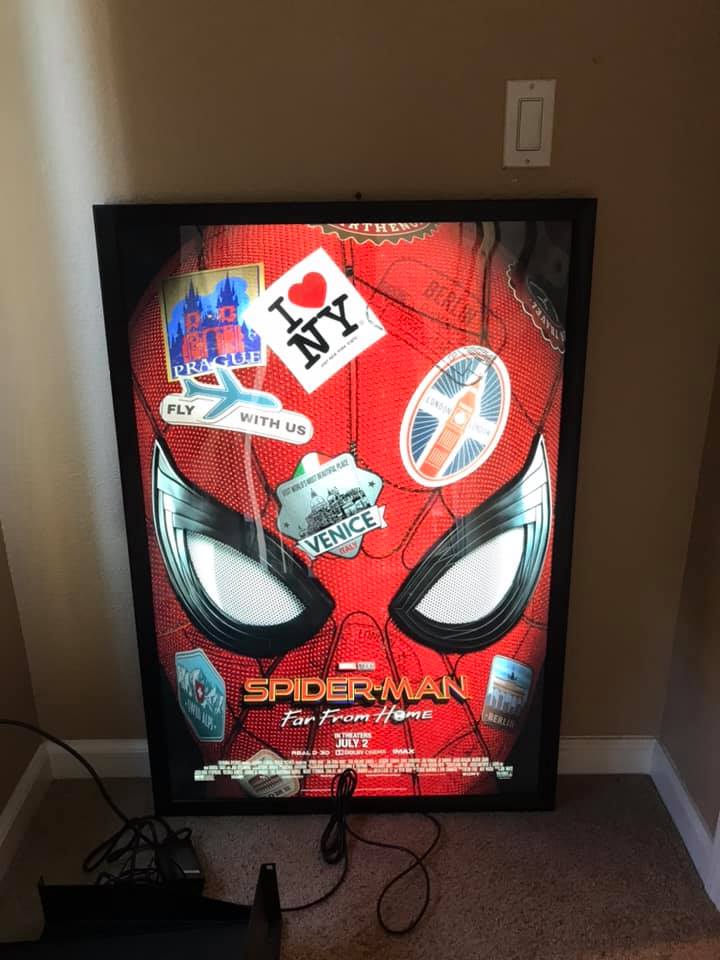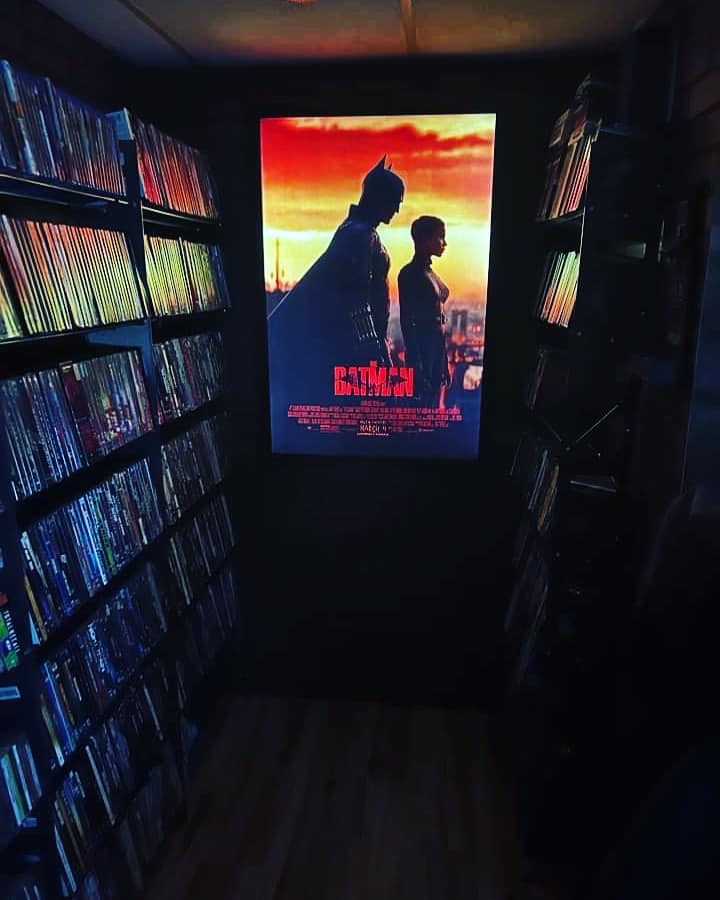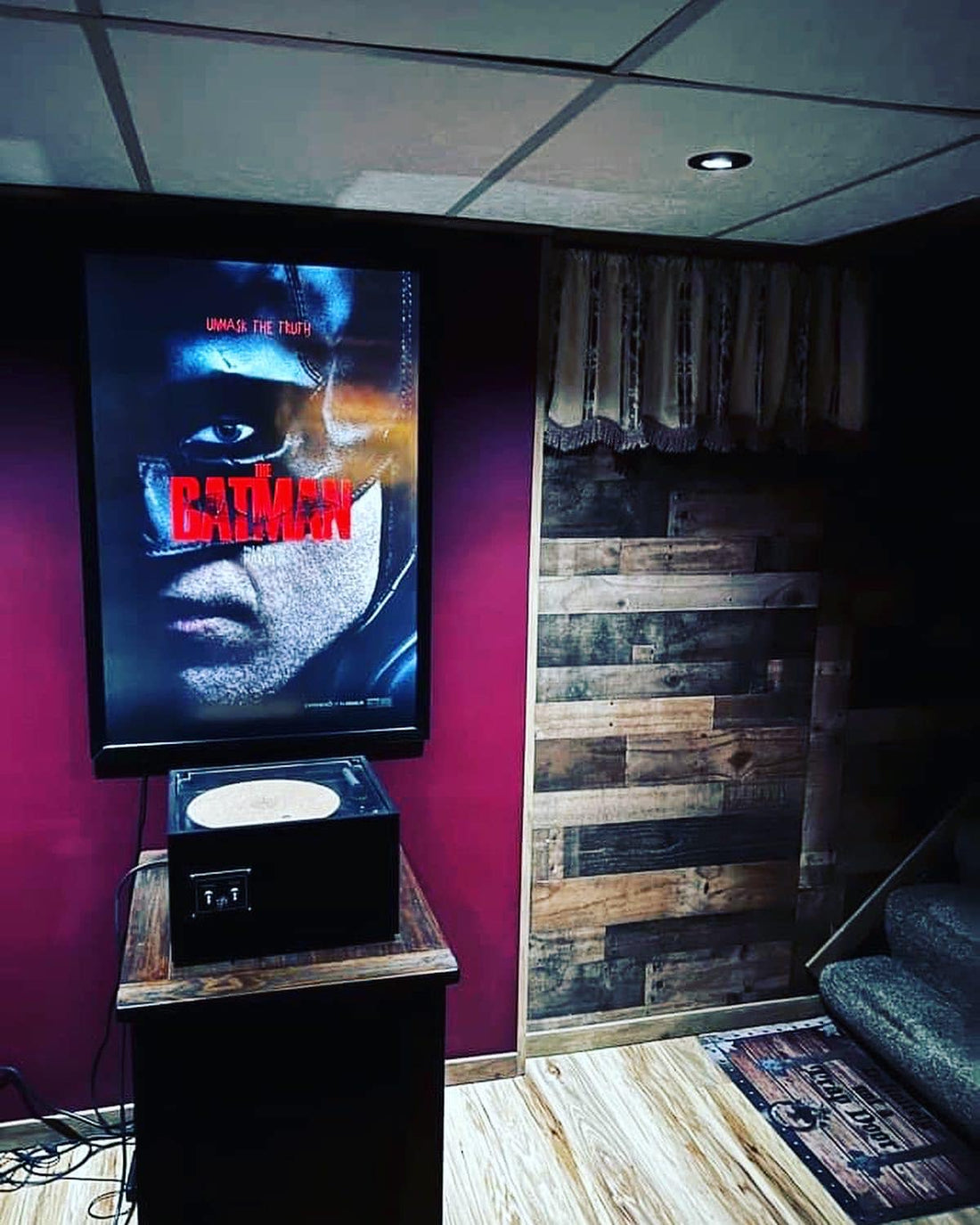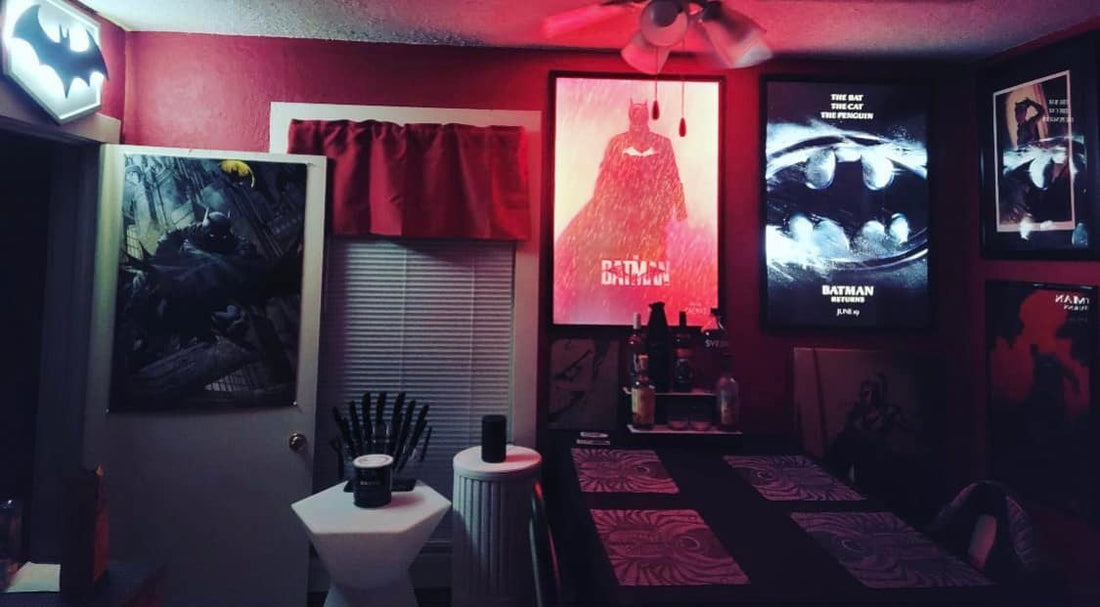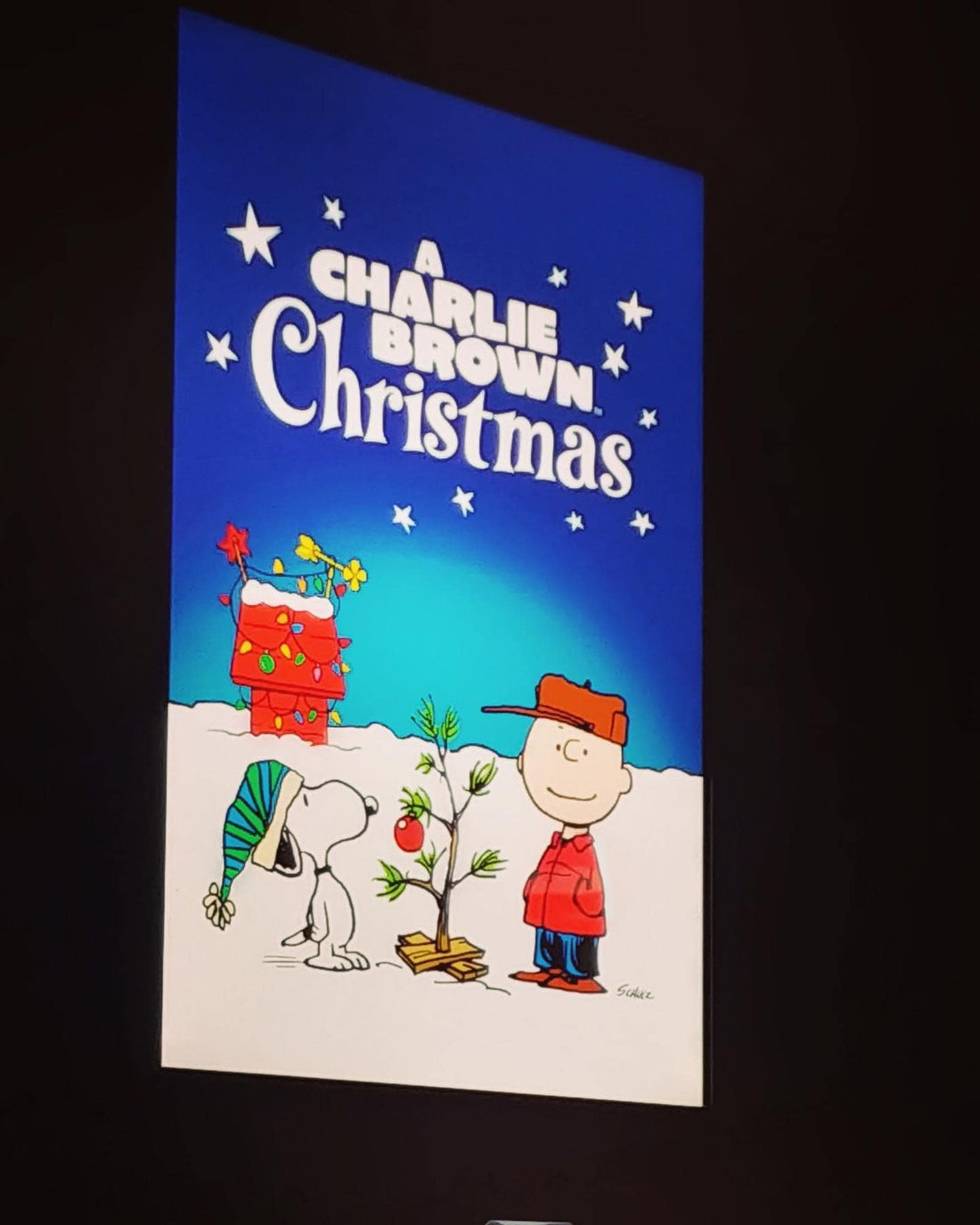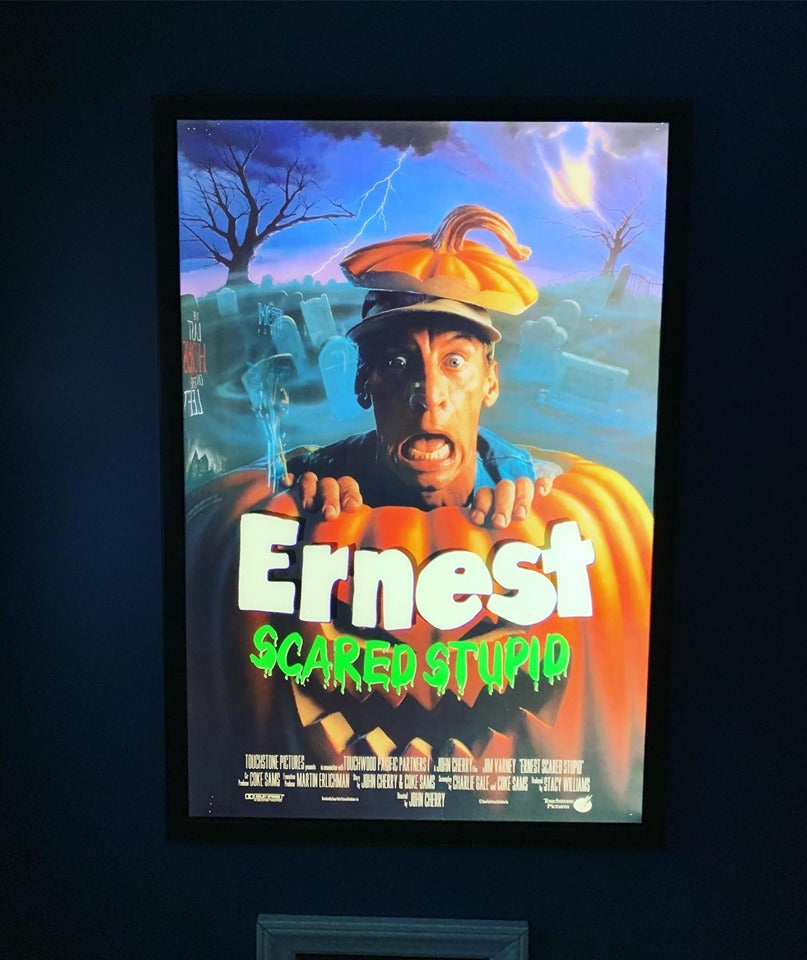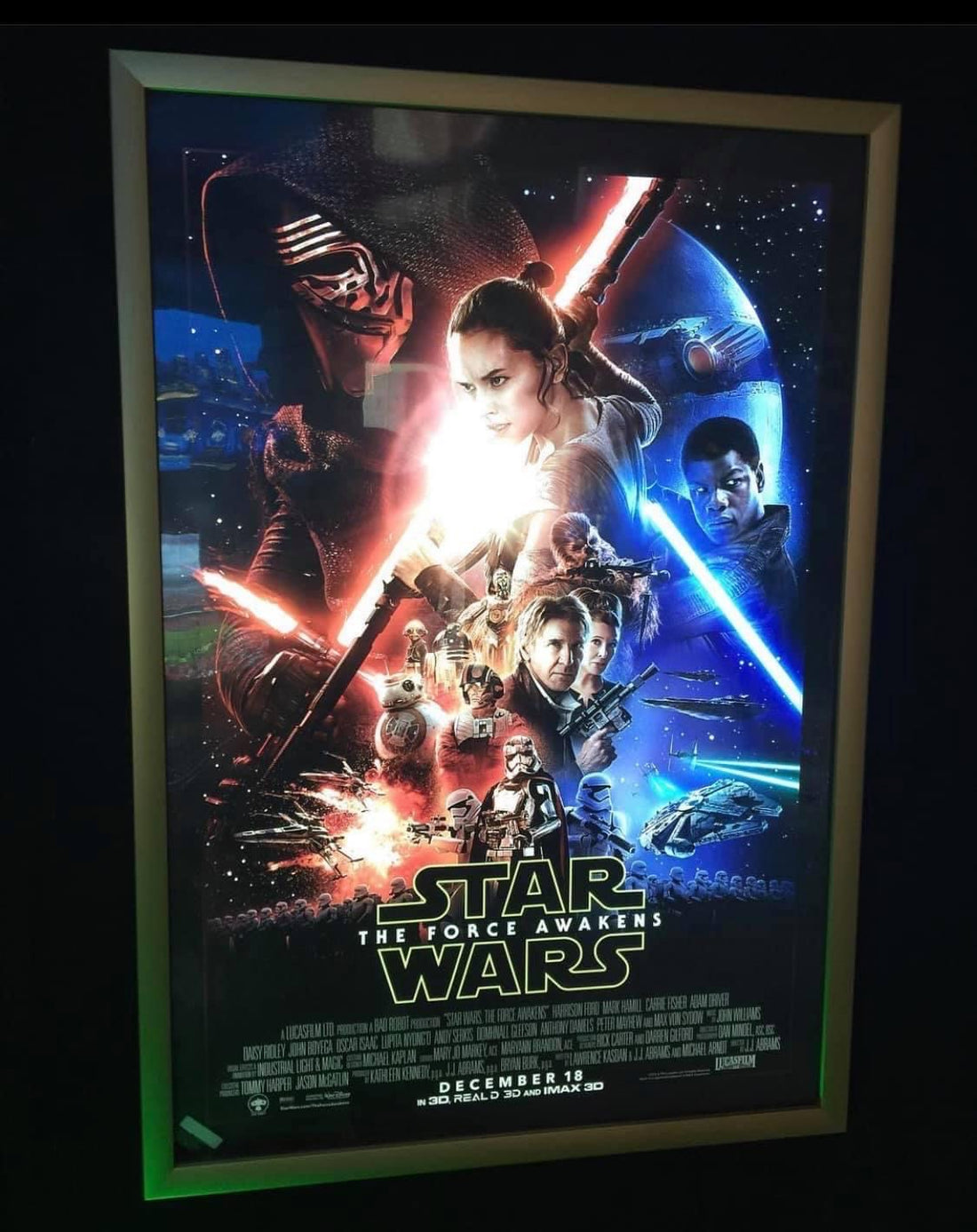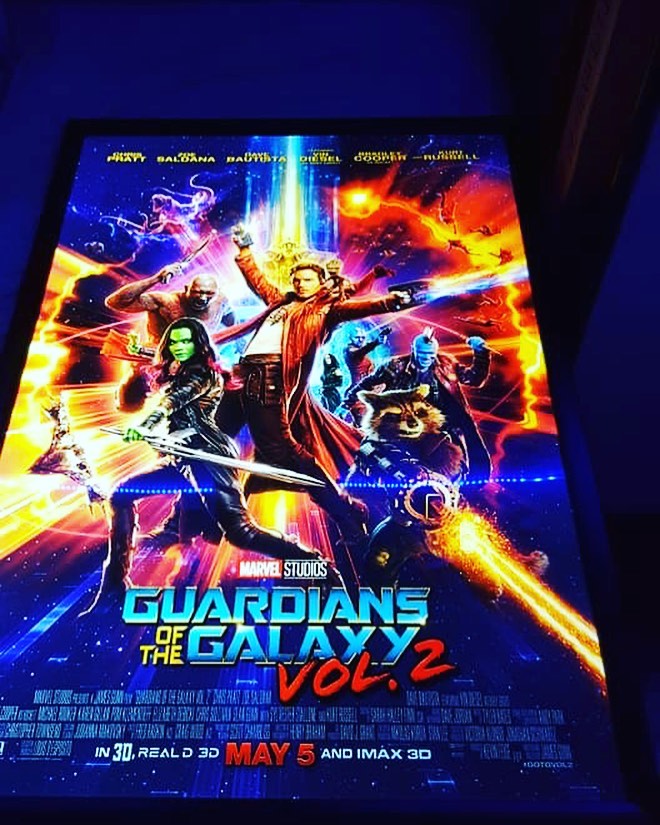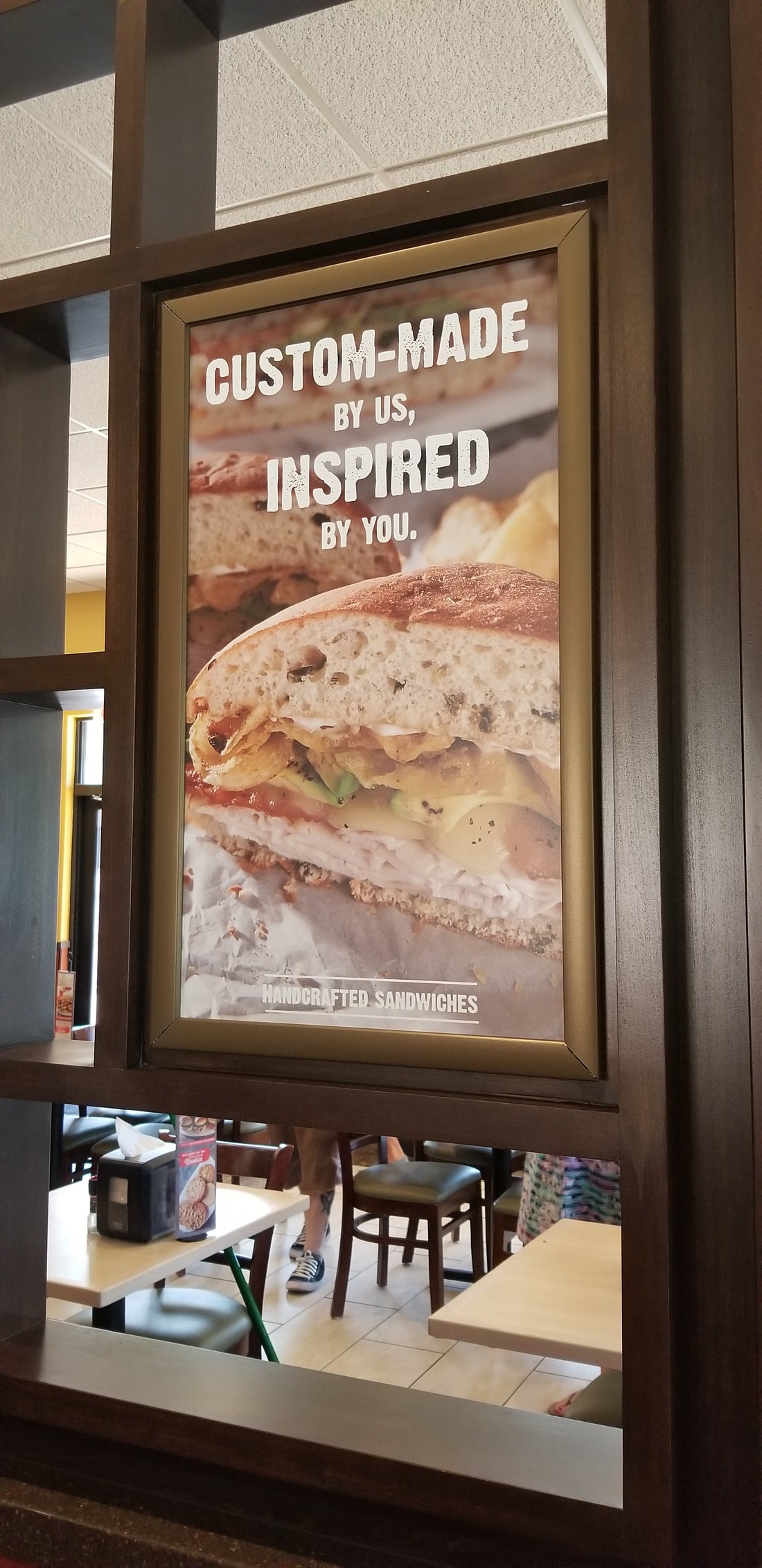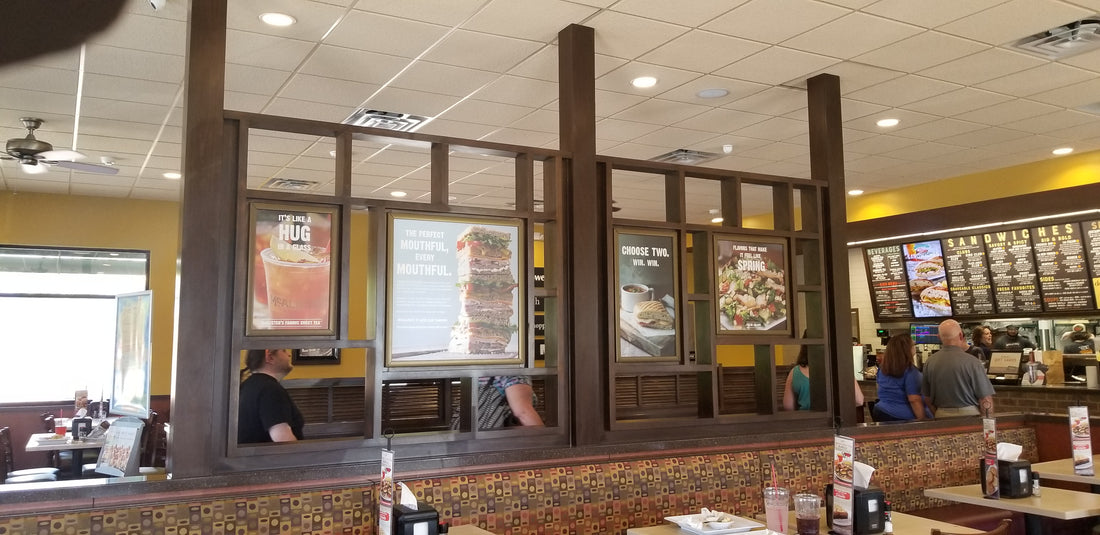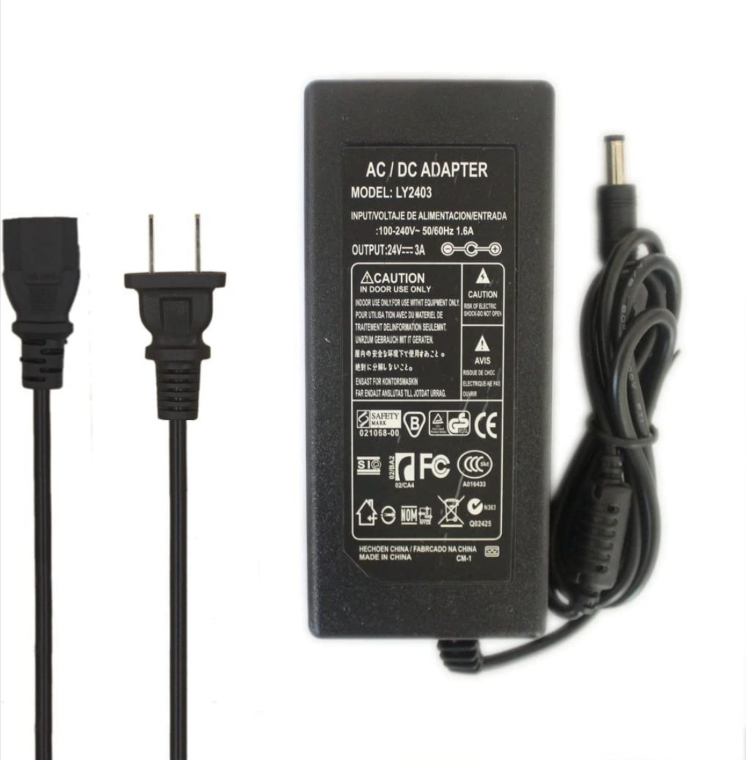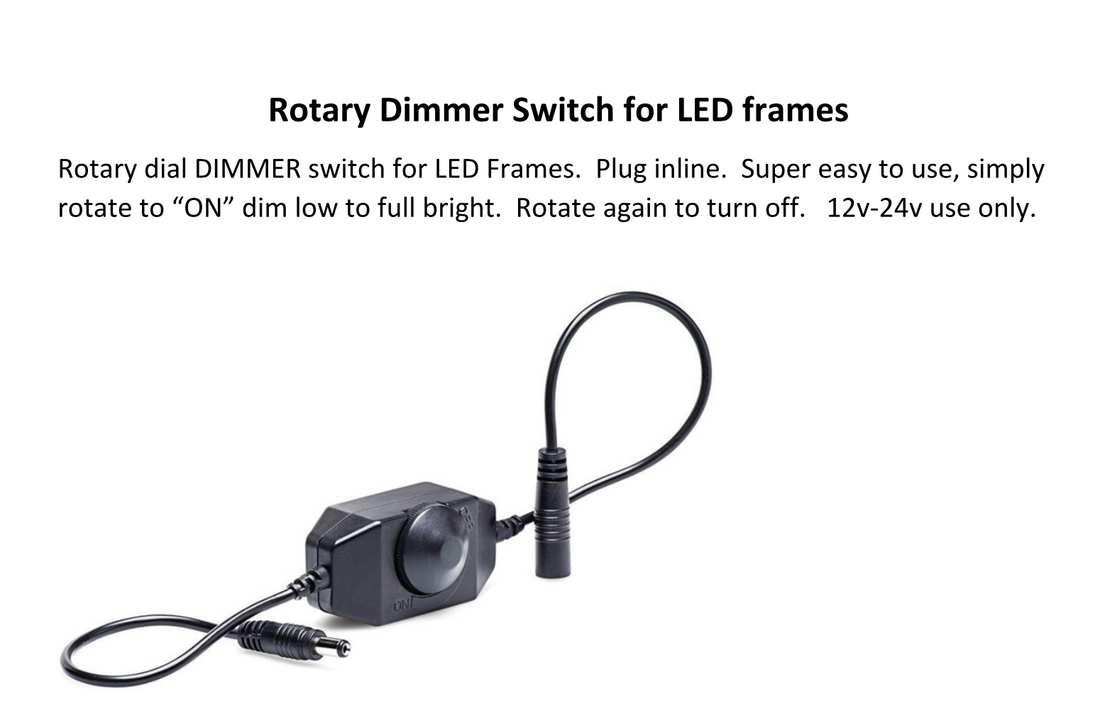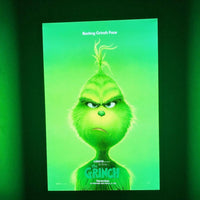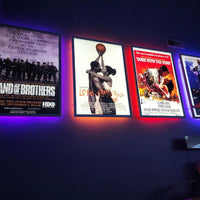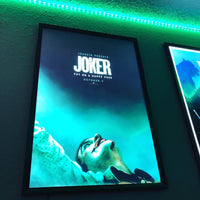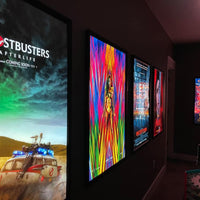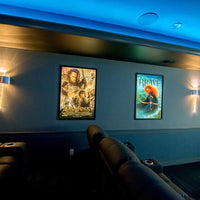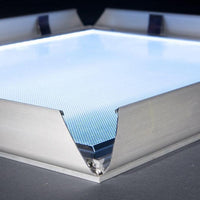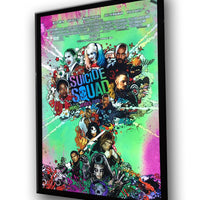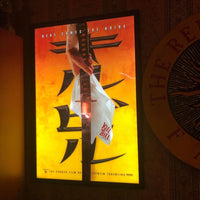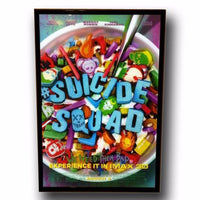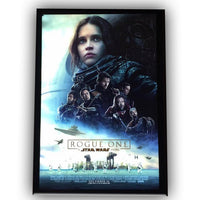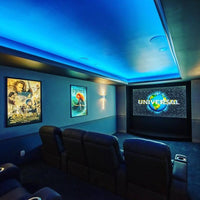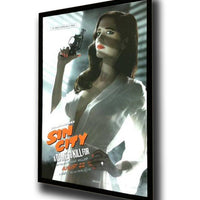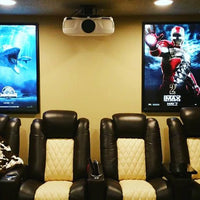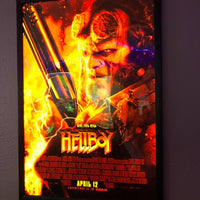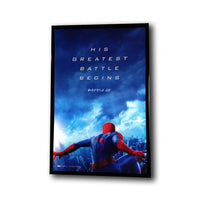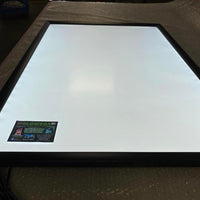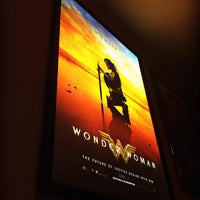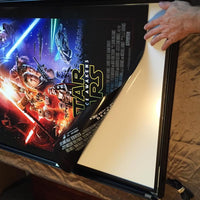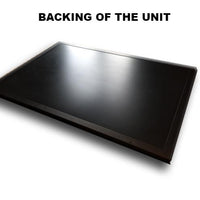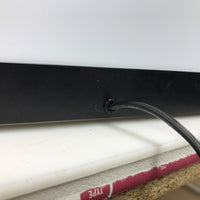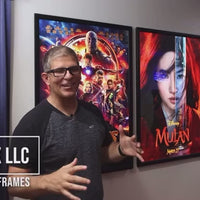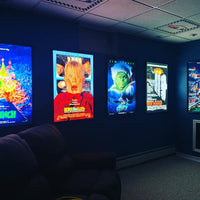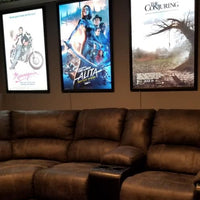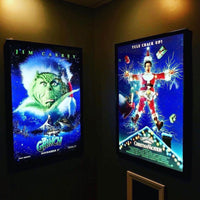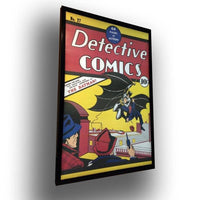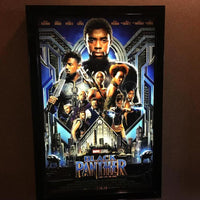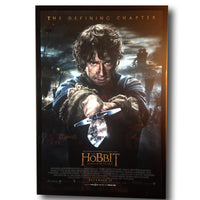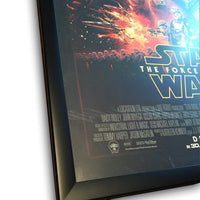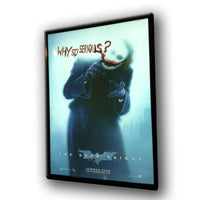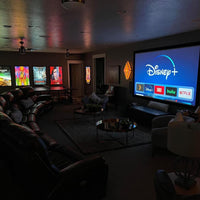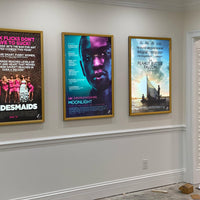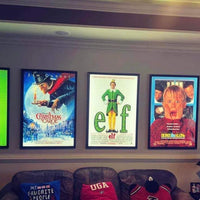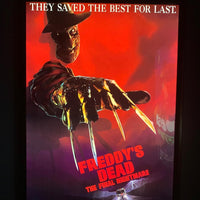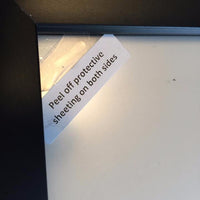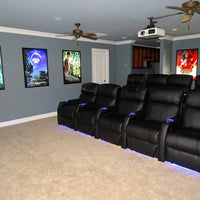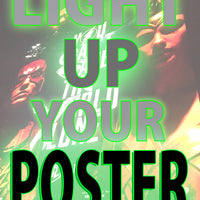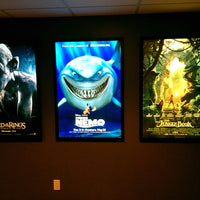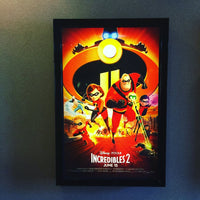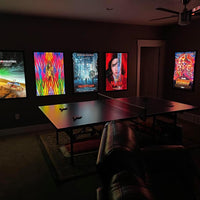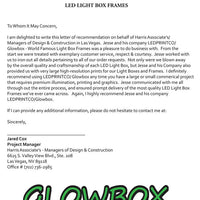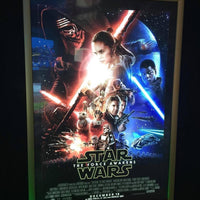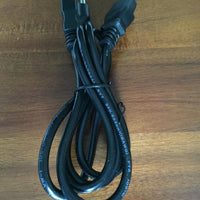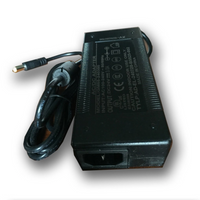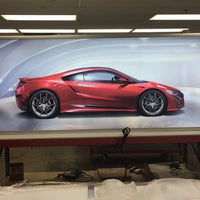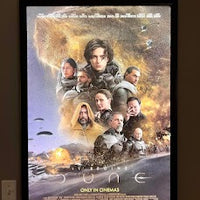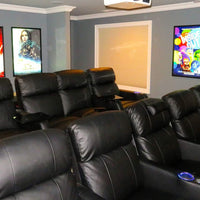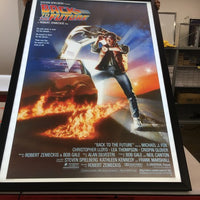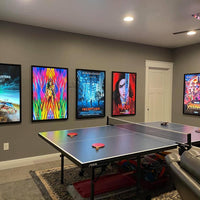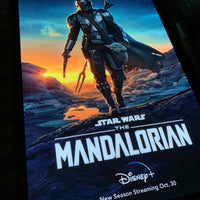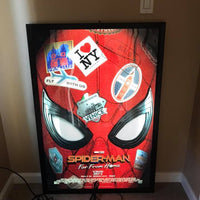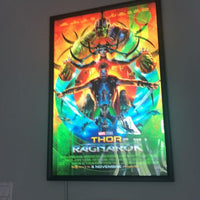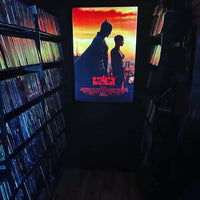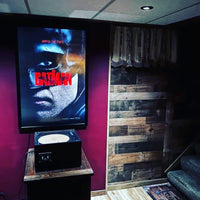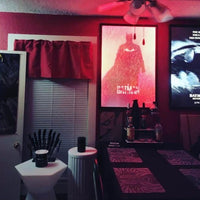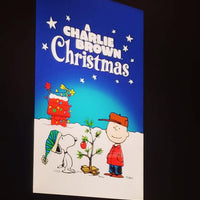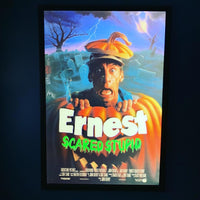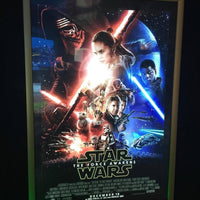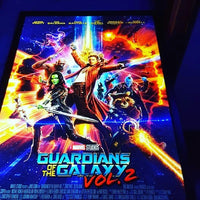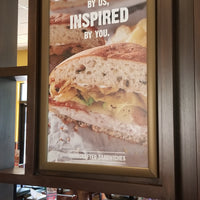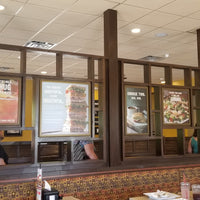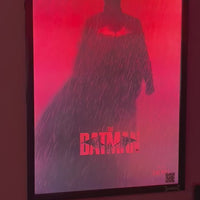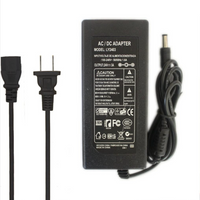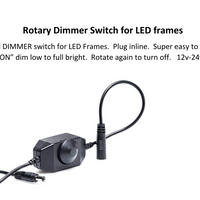 Glowbox "World Famous" LED Poster Frame - Made in the USA
Select your size.
Glowbox is Family Owned and Operated! Made in the USA. "World Famous" LED Light Box Poster Frames.
Based out of Kansas City, MO, GLOWBOX LLC supplies the most premium, quality LED display frames in the world. Light up your favorite posters and photos with ease.

Easily change out any poster at any time with out tools
For the outer dimensions, add 1.75" to the print size; e.i.) 28.75 x 41.75" for our 27x40 LED Glowbox.
4 drill holes, comes with hardware for mounting 
Perfect for Home Theaters, Man-Caves, Media Rooms, Bedrooms, etc.

Super slim & sleek – Only 0.96'' in depth

Easily change the poster at any time - snap frame borders pop open easily for easy removal and insertion of new poster

Top quality smooth Anodized Aluminum Everlasting Frame Structure – 30% recycled materials - the finish on the visible border portion of your frame is immaculate

USA Quality Craftsmanship – light will not escape through the edges of your frame, as it does in cheaply made products

True Bright White Light at 6500K

LED illumination evenly distributes vibrantly across our top-notch acrylic panels – no hot or cold spots

NEW & compatible with Glowbox! Add these to your Glowbox to make your unit wirelessly dimmable & powered! Super easy!

Wireless Remote:

https://www.amazon.com/gp/product/B08D6FC2T6/ref=ppx_yo_dt_b_asin_title_o05_s00?ie=UTF8&psc=1

100% Customer Satisfaction – we turn fantasy in to a reality with our Light Boxes & never disappoint. A must for anyone that's nostalgic-minded

Every Light Box is assembled & ready to hang up - hardware included

Lead time & shipping – give us 7-8 business days to fulfill your order & provide you with tracking number

We will take care of you, please don't settle for a less quality version of a Light Box, when you purchase from us, you are taken care of from the "beginning, during, & after"

100% Customer Satisfaction Level - zero returns and 100% Reviews on Google and Etsy

Doesn't include the poster - you can find these online easily (the best for LED Frames are double sided posters but don't have to be)

Cord is around 11' total with 24v transformer

PLEASE be sure to specify in the customer notes if you want the cord to come out of the standard bottom left edge, or out of the back portion of the LED Frame. A lot of folks will. have a recessed outlet installed to contain the cord and such, there are also cord covers available online if you have the cord come out of the standard bottom left edge. Please be sure to specify and thank you again for shopping at Glowbox LLC.

Please be sure to check all of the shipping box when your package arrives, for we've had past customers throw away appropriate cords & transformers by accident.  Must report any missing parts & components within 72 hours after receipt of delivery.  Customer will be responsible for any missing components after this 24-36 hour window. Any damages to your order must be reported within the same 72 hour time period. Substantial evidence; images and videos must be submitted to our Text Line: (816)213-0826 or via email; glowboxkc@outlook.com with your order number and name included. Our team will update you on what steps are necessary for the Fedex Claim to be filed properly. Issues take place at a low percentage, however they can take place, please be patient with us for we will take care of you. Again each delivery is protected with Fedex Shipping Insurance. Please remain patient so we can work through the process with you to get you taken care of. Ea unit comes with a 2 year limited warranty that doesn't cover physical damage. If you have any questions about the shipping process please address them before purchasing. And again please be sure to not throw away any of the packaging until you inspect your unit to ensure it's functioning properly and there weren't any issues during the shipping process.

*The face of the acrylic continues brightening in the first 30 minutes after turning it on.  Our new computer dotted LED panels provide a uniform light distribution, also aiding with reducing any damages during the shipping process. An updated rotary dimmer comes with each new Glowbox LED Frame.
Each unit comes with a 2 Year Limited Warranty that doesn't cover physical damage. Please report any LED issues via email and include pictures and video that show the issue at hand. Our team will follow up with you on the next steps you will need to take with your case in regards to the 2 Year Limited Warranty.
Each one of our LED Frames are manufactured in the USA, our warehouse engineers & manufactures each single unit with pure craftsmanship to live up to any market's expectations.  Please beware of companies that sell cheap versions of Light Boxes, ask them where they are manufactured.  Stick with American-Made & Glowbox LLC, right here in Kansas City, MO.
Location: 66 E US HWY, Kansas City, MO 64119
Call: (816) 710-4569
Textline: (816) 213-0826
Email: glowboxkc@outlook.com